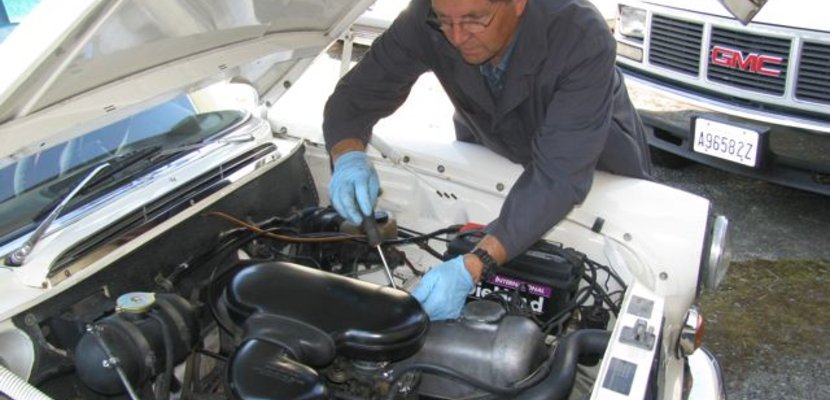 As much as I try to get away from it, I end up working on old Mercedes almost every day of the week. When I post pictures like the ones here, people often ask if I still work on customers cars. Unfortunately, I just do not have the time anymore. When I do work on cars, it is primarily for the purpose of writing a repair manual or developing a new repair kit. If that does not keep me busy enough there are always my own Mercedes (too many), family cars, or friends cars that need help. It is hard to say no. I guess I have to admit I still like cars even after working on them for 50 years.  Thats right - I started real young....
The old Mercedes to the right is a 1966 230 Fintail Sedan that was given to us. After replacing fuel hoses, filters, coolant hoses, and tuning the cars, I am here installing the newly repainted air filter assembly.
The car below is...oops...not a Mercedes. It belongs to my landlord. How can I say no to him? A super nice example of a 1985 Carrera with only 70,000 miles. Love working on rust free and super clean old collector cars - no matter what the marque! Today we are inside the wheel wells painting the rotor hubs and calipers as well as inside the wells. Now that is real detailing... :-)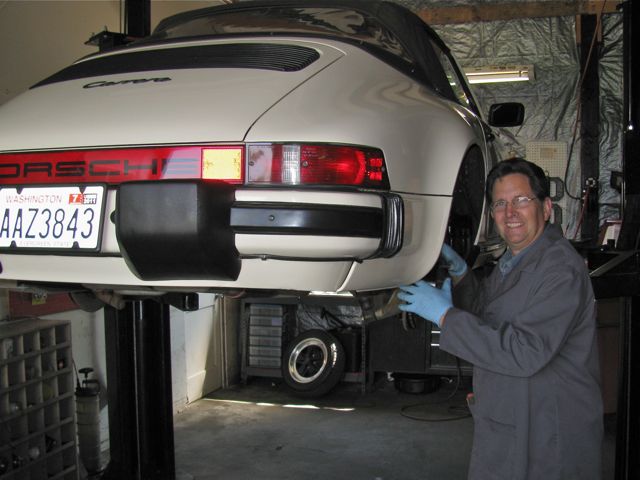 August 13, 2010: Today I decided it was time to take my Mercedes 450SEL 6.9 for its maiden voyage. To read the story of how I acquired the car and what I have done to it CLICK HERE. I have given it a few test runs locally but decided I would surprise my staff and take them for a REAL ride to a restaurant for what we call around here free lunch friday. I haven't started work yet on prepping the car for a new paint job. I won't do that until I give it a thorough mechanical shake down. So today will be the test - a nice long 1 hour drive in the beast. Before leaving the shop I had to finish some engine detail tuning and detail. Found a broken vacuum line and a loose hose. Of course I had to repaint the air filter housing. By now you can tell I like nice looking air filters. Can't stand looking at an ugly one!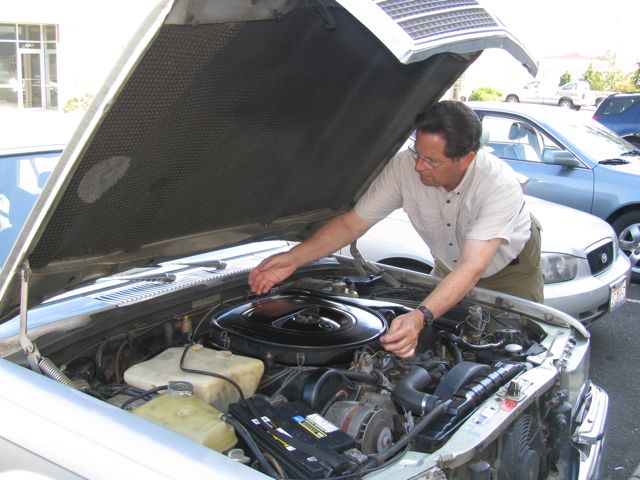 I just love the front end look of a European 116. Now that is how the designers intended it!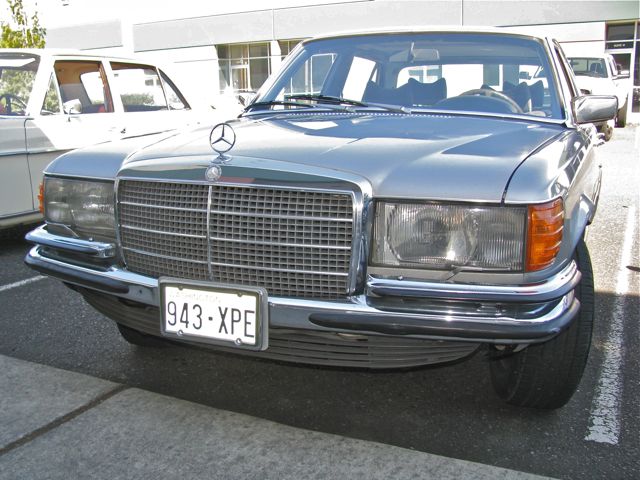 The angels were totally surprised when I showed up in this car to take them to lunch. What a ride it was and the food was good too.....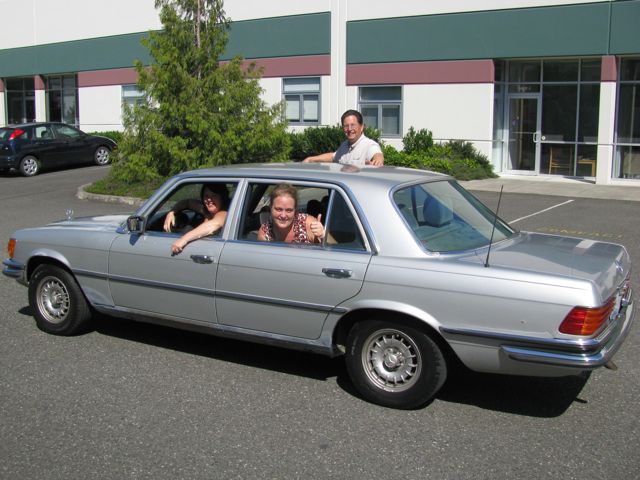 Time to fix the exhaust.....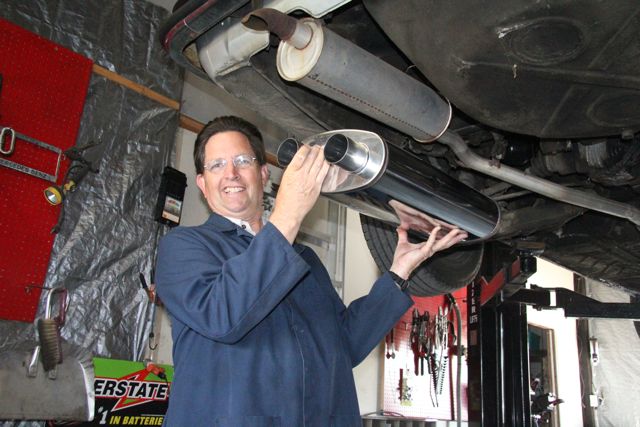 I recently spent some time laying out the exhaust system for the 6.9. You can see I am try to find just the right size flow through muffler at the rear. This one is big and may be a little too large. I don't have much space forward but I know I am also going to have to add some center mufflers (straight through) to get the sound and performance just where I want it. I has to sound mean - but I don't like loud!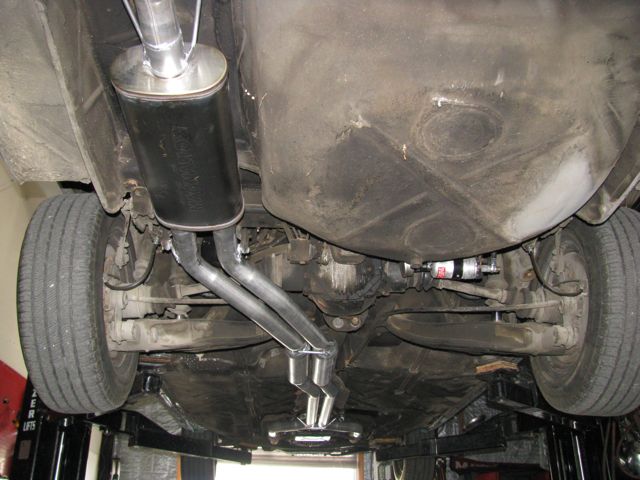 My 6.9 exhaust system is finished and what a difference!  I get a nice low rumble at idle but no obnoxious sound during acceleration or exhaust roar at freeway speeds. I decided on a smaller cross flow rear muffler (two in and one out) to better balance the sound. With the flow restriction gone from the single pipe exhaust the difference in acceleration is amazing. Note: I mounted the rear muffler forward so I will have room to install a nice looking resonator tip without it sticking out to far past the rear bumper. Floor it now - rear tires break rubber - and the car will push you back into the seat and keep right on pushing you up to 100 mph... :-). Those Euro engines can really breathe!!!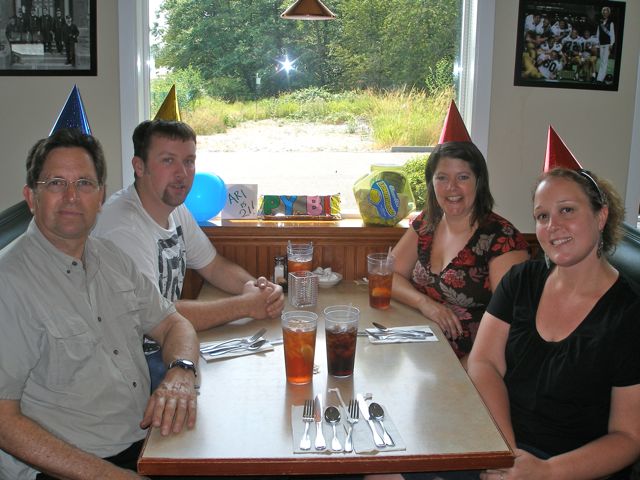 August 25, 2010:  All is not work. Of course we had to take the time to celebrate Aris 21st birthday. Ari is the talented young man who helps me make the valve wrenches, reamers, pressure testers, turbo kits and on and on......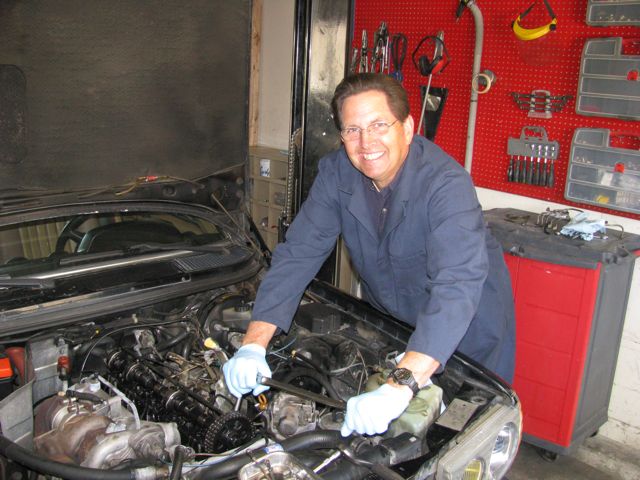 September 2010: Announcing a new arrival. Just purchased a 1985 300TD wagon with a very loud engine knock. The fun now is to see if I scored a winner or loser. Stay tuned as I attempt to find the source of the knock. Here I have removed the valve cover for cam and rocker inspection and am now removing the fuel injectors.  Someone had these injectors torqued in at almost 100 foot pounds and there were no heat shields installed!  Ouch.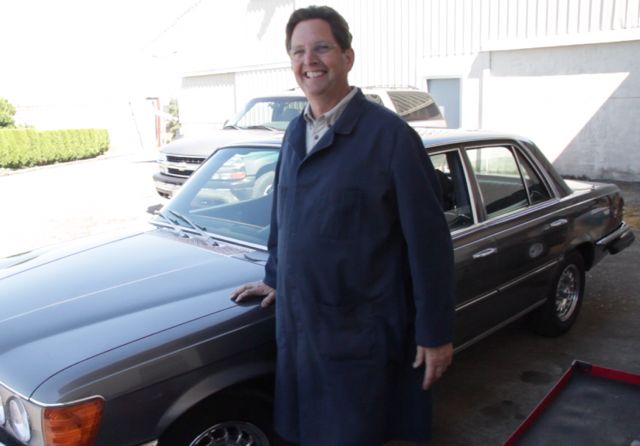 All smiles after finishing my newest video. These are actually turning out to be more fun that I thought they would be. If you think this is easy, just trying talking into a video camera trying to remember what you need to say at the same time!!!  :-).  I am standing next to my favorite old diesel. I very pristine 1979 300SD that I purchased a few years ago from the original owner. In my humble opinion, this is one of the best cars Mercedes ever made.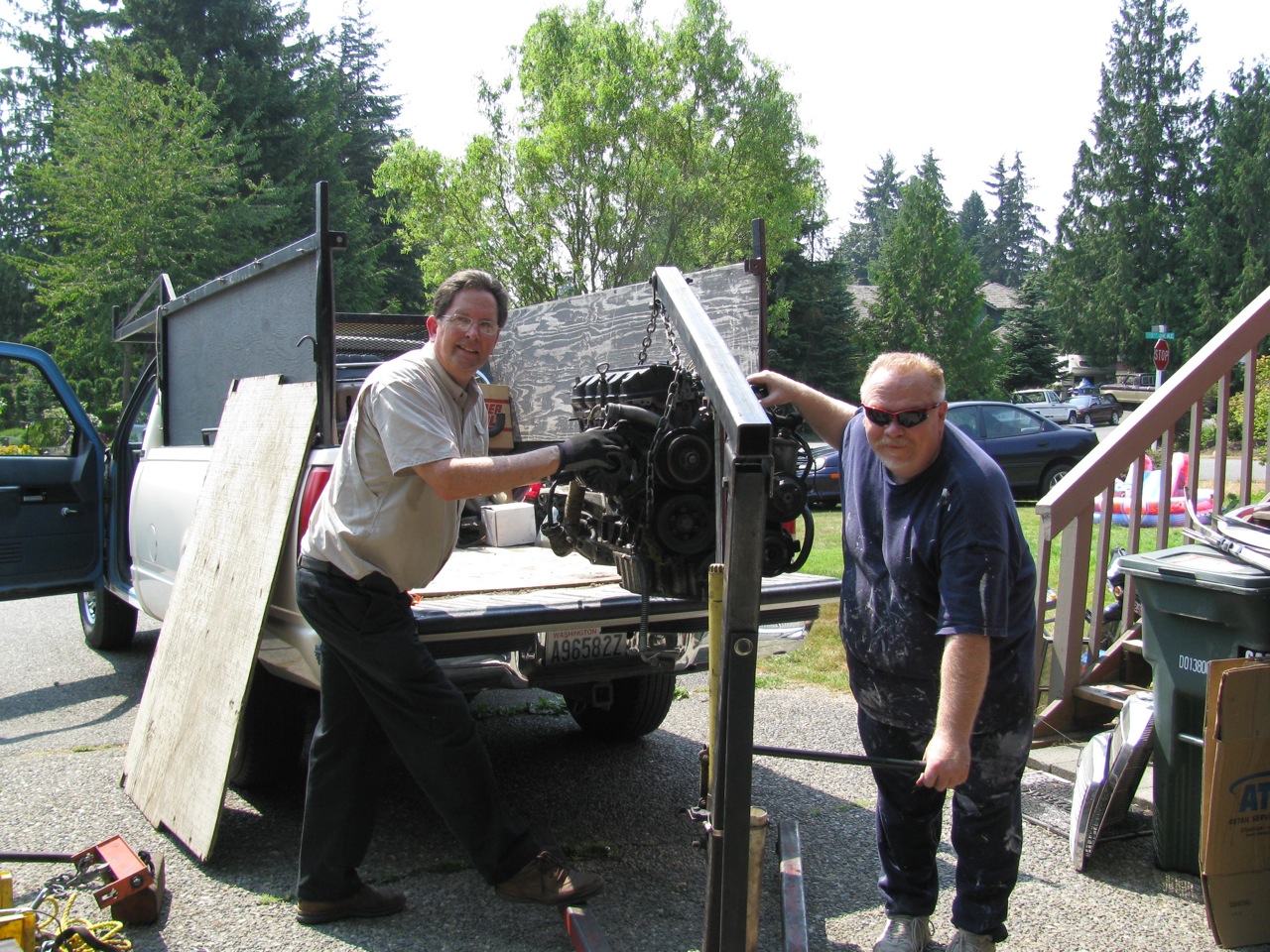 September 2010: Going through a collection of old Mercedes parts given to me by a friend who was moving and had to get them out of his garage. A couple engines and boxes and boxes of old parts. Anyone need a 190E 2.3 engine? Also picked up a 189 engine and matching transmission. If you know what a 189 engine is then you are really into Mercedes...  :-). Check over the next week or so for a bunch of new and interesting used parts uploaded to Mercedessource. Thanks Arnie, for the treasures...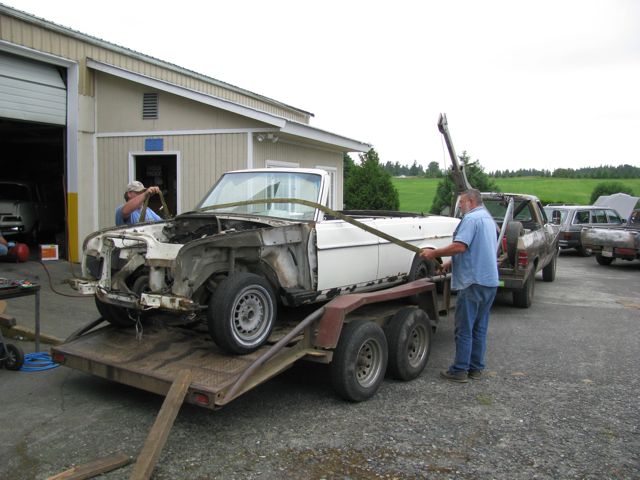 Another rare one bites the dust.  Off to the crusher. Just did not have the time to finish this rare 108 chassis convertible. For you Mercedes experts out there - how many 108 convertibles were made during the 1960's?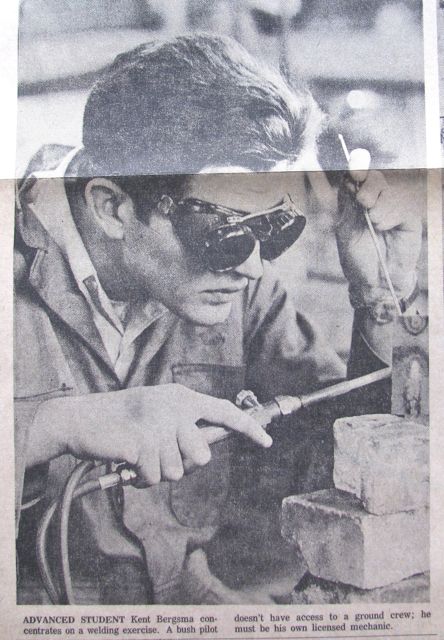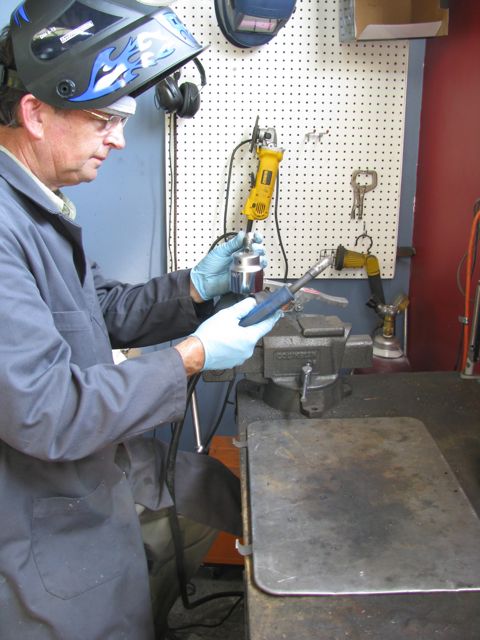 Almost every day I have to head to the shop to do more welding.  It is Sunday even!  A number of special tools parts I have designed require welding and yours truly does it all.  I have welded thousands of diesel valve adjusting wrenches, hundreds of fuel tank screen sockets (shown above in special jig) and hundreds of countless other gizmos.  I keep complaining to my wife, Linda that I don't know if I can go on... welding that is.... Sometimes I do it on the weekends because you just can't get distracted when you are welding!!! Where did I learn to weld? Here is a picture of me taken in 1968 in aviation mechanics school.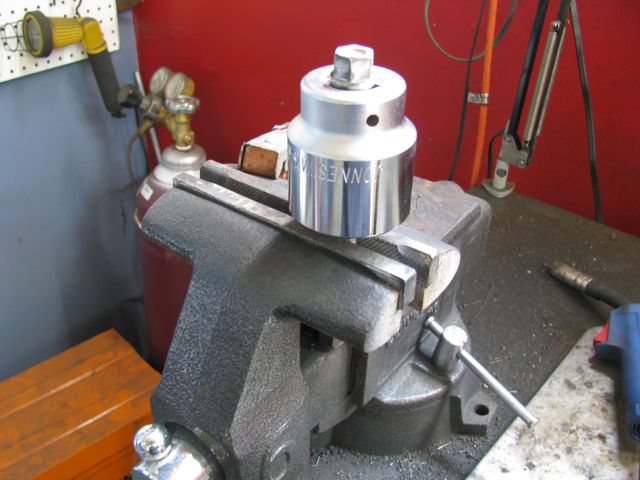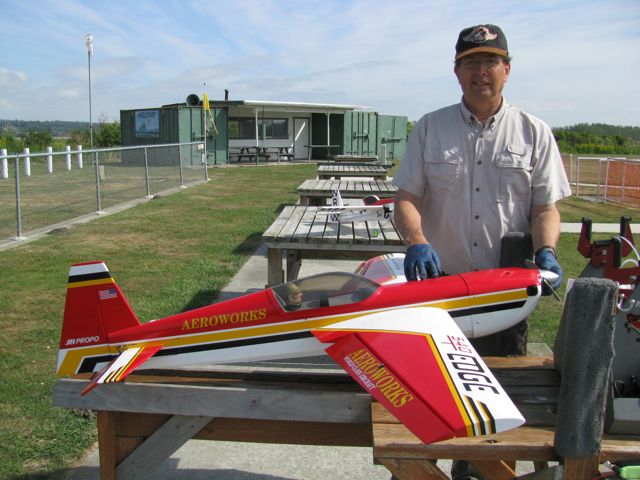 September 2010:  Can't work all the time and just have to catch some of those nice fall days before everything around here turns to rain. For those of you who dont know this is what I do for relaxation.  I guess I still like messing with airplanes....
October 2010: Am replacing the valve stem seals on our 1966 230 in the hopes it will reduce the heavy engine smoking problem.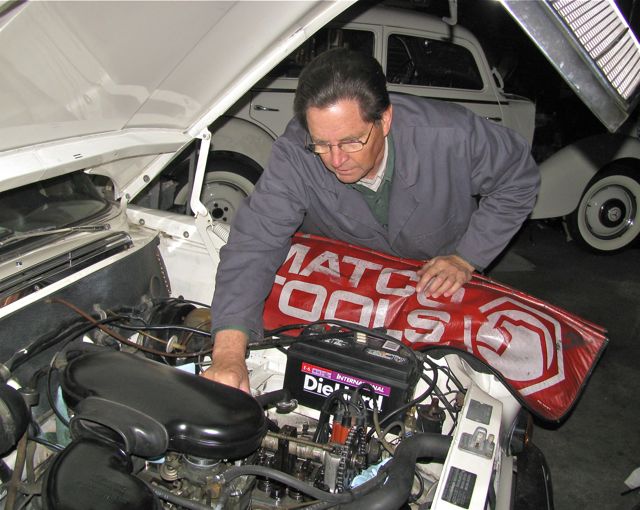 January 2011: This past few weeks I have been working on my newly acquired 300SDL.  I know I should be working on things more important, but I just can not stand pin striping on a Mercedes. So using 2000 grit sandpaper and a power buffing I am getting rid of it!