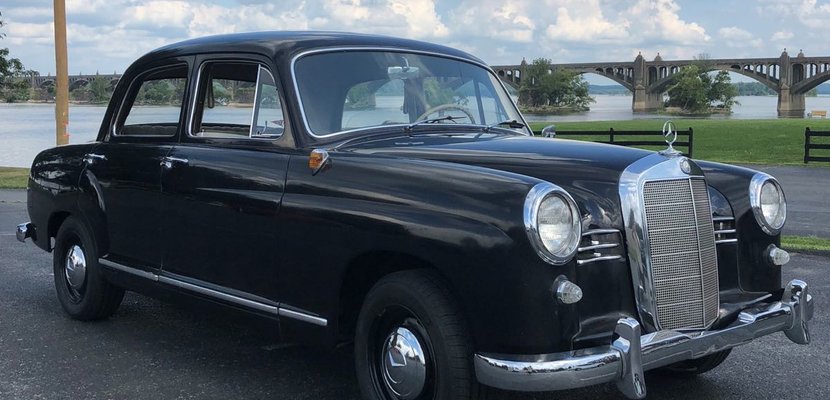 New owner of "Tux" recently sent us the following story. Great to hear he is in good hands.
Here is a copy of the email sent to us from the new owner:
Hi Kent and Kaia:
I am enclosing two pictures of Tux on his first big trip, probably the first longer trip he has taken in many years.  After a number of 50 mile to 60 mile trouble-free trips over the summer months, we decided to go on a longer trip.  Here he is on the eastern shore of the Chesapeake Bay at the lighthouse in Cambridge, Maryland. 
He did a 310 mile, two day round trip from Pennsylvania down into southern Maryland and back, avoiding all the interstates and staying mostly on country roads.  We were on a few divided, but mostly deserted two lane highways where he motored along at about 55 mph to 60 mph.  He ran flawlessly and averaged about 37 miles per gallon.  Everywhere he went, people asked about him and wanted to take pictures.  The diesel guys just loved the sound of that engine.  He is a well-tempered, comfortable, and easy car to drive.
Thanks for letting me be his guardian and caretaker.  I hope you don't mind an occasional picture or update.
Brian
Brain shares the full details of his trip:
The route started in Lancaster, Pennsylvania, in the heart of the Pennsylvania Dutch Country in South Central Pennsylvania.  Then Tux and I headed west to Wrightsville, Pennsylvania, on the western side of the Susquehanna River.  Tux and I stopped there briefly and then  re-crossed the river headed east over the Veterans Memorial Bridge which is in the background of the one picture, and headed south toward Maryland,  crossing the Maryland line near Nottingham, Pennsylvania.  The southern part of Lancaster County is hilly so Tux and I had some hills to climb.  He has great torque so I was able to climb all the hills except one in third gear as long as I had higher rpms when I started the climb.  I purposely slowed to about 40 mph and shifted into third.  One hill I had to creep up in second.  One hill I managed to stay in 4th but I gathered some speed (about 60 mph) before the hill started and I finished the hill at about 40 mph.  It is not as bad as it sounds since this area of Pennsylvania has many Amish who only use horse and buggies for transport and the roads are wider because of that and have wide shoulders  It was also early on a Saturday so there was not too much traffic.  These were all two lane roads.  I did pass a few Amish buggies along the way. 
Once Tux and I crossed the Maryland line, we went to Elkton, Maryland on the Elk River using US Route 40.  That was two lanes in each direction and we motored along at 60 mph with no problem.  There are traffic lights along this stretch of US Route 40 so when stopped at a few lights, people rolled down their windows and asked me about the car.
At Elkton, I turned south on Maryland Route 213 to Galena, Maryland.  Again, all country roads, one lane in each direction.  At Galena, I picked up US Route 301 south for a while and then went to Chestertown, Maryland, the home of Washington College which was funded in part by George Washington.  Chestertown is on the Chester River and is filled with many 18th Century homes, many built before the Revolutionary War.  Then I picked up US Route 50 east (although the stretch I took is really pretty much due south) and headed first to Easton, Maryland, and then Tux and I crossed the Great Choptank River at Cambridge, Maryland.  That was where I stayed after the first day and took a few pictures.  I had a few locals at the McDonald's who were driving their big Ford diesel trucks come up and ask about the car.  They especially loved the fact that it was a diesel.  One was fascinated as to the starting procedure and they all loved how the engine sounded. 
On Day 2, I headed further south and a little east toward the Blackwater National Wildlife Refuge on the shore of the Chesapeake, then a little further south to Salisbury, Maryland before retracing my path back north.  Tux and I finally stopped for fuel in Easton, Maryland where, after several hundred miles, I took on a mere 5.8 gallons of diesel to fill the tank.  In Easton, I was approached by someone who initially thought it was an English car and then they saw the proud star from Stuttgart on the front and recognized it as a Mercedes.  After that I went all the way back up to Lancaster, Pennsylvania.
Very few people could tell the age of Tux, although the rounded shape made some say the 1950s and almost no one had ever seen a Mercedes Ponton.  One older gentleman told me his father had a 1957 220S Ponton and that it was in the family for years.  They were universally amazed when they saw the 1959 Pennsylvania license plate and I confirmed that Tux dated from 1959 and that I was traveling all the way from Central Pennsylvania in the car.  One person told me, in a joking manner, that I was "nuts".   Who know, maybe I am, but I had a great time.
As I said, Tux is a real pleasure to drive.  He is not fast, but part of the fun of driving a car is not getting from Point A to B in the shortest time, but rather it is enjoying the experience.  You really see a lot more when you are driving along at 50 mph as opposed to 75 mph and aren't distracted with all the modern electronics, GPS, etc.   Tux performed flawlessly which is a testament to your skills.  My independent Mercedes mechanic did not have all that much to do other than new tires, new battery, a new heater valve, and some minor miscellaneous issues.  Not one problem on my trip.  The mileage was great.  The climate control works well for a car of that age.  The car is a little loud (primarily engine noise), but who cares.  I am pleased to report that Tux does not send out clouds of diesel smoke.  He actually runs rather clean, even under acceleration.  Tux is a well mannered, predictable car that has a nice ride.  And most other drivers recognize his limitations, especially when accelerating from a stop or climbing hills and no one was rude or nasty.  They probably think it quaint that someone is driving a car like that.