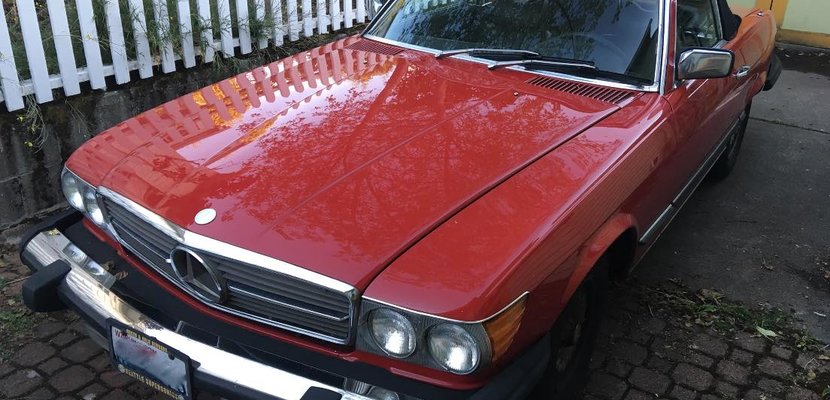 Don't let your emotions make the decision
When I was younger I use to think I could save them all! But now as I get older I am getting much more selective and find myself coming home "empty handed" more often than not. That happened to Kaia and I recently as we got up early and headed out on a 3-hour drive to purchase a 1978 450SL. CLICK ON PICTURE TO READ MORE  Recently we have been "hunting" for an R107 chassis for use in doing some new videos and repair kits for the M116 and M117 V8 engines. From the add, this one seemed like the perfect candidate. Straight body, good paint, no rust, a recently rebuilt engine ($5000 in receipts), BUT it would not go into reverse. The seller had been told he needed a new transmission and was ready to sell it "cheap." 
I thought to myself, "That would sure make a great video if I could show how to fix a transmission in 10 minutes with a little magic!" I was so excited about the possibility of an easy fix for the transmission, that I neglected to drill him on why the engine was overhauled and what exactly did the overhaul entail.  We knew that even if the transmission would not go into reverse, we should have no problem driving it home. I loaded up my S500 with my "hunting" kit and off we went. It was a good hour and a half drive to get to our destination. To learn what I took along with me watch the first video below. 
Upon arrival, initial inspection went well. A quick walk-a-round and a kneel down revealed a super straight body, bright paintwork ( repaint ) with only a few small nicks and scratches, and no rust. I was feeling pretty good at that point. Watch the second video below as I captured those initial impressions. Then I opened up the engine compartment and started checking all the fluids. Engine oil, coolant, and power steering fluid looked very clean. The transmission was not going into reverse according to the seller, but the transmission fluid did not smell burnt. I always pull the oil cap to look at how clean the engine is inside and at that point I got my first big surprise. I was looking at the top of the first cam lobe and it did not look pretty. Not only was it VERY badly scored, but the tip of the lobe had severe pitting. I knew if I pulled the valve cover I would be looking at one ugly looking camshaft and set of rocker assemblies ( remember if the cam is badly scored the rockers are going to be scored also). This was the first sign the engine had not been loved ( too infrequent oil changes to start with).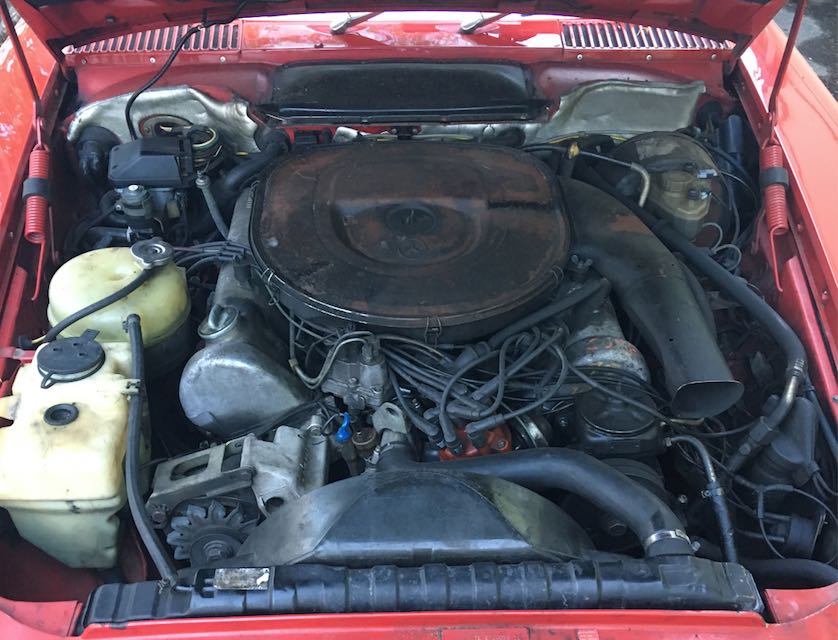 So it was time to start it up. I noticed the engine was warm, so the seller had already started it earlier. It fired right up, and I immediately heard a loud exhaust leak, but as I walked around the front of the engine, I heard the unmistakable knocking sound of a loose piston. It was loud enough that I was not all that excited about driving it home 90 minutes on the freeway. I shut the engine off with a saddened look and ask the seller if I could see the receipts for the "engine overhaul" and asked him why he had the engine overhauled in the first place. He proceeded to tell us that the engine had thrown a timing chain! Boy, that was not good news to us. I have learned over the years that any time an engine throws a chain with it running at speed, you usually end up with collateral damage that can not be seen unless you tear the engine apart. It is comparable to when an aircraft engine propeller strikes the ground. You don't just install a new propeller. You have to completely disassemble the engine for a full inspection of any internal damage. 
I looked over the bill for the repair, and it did indeed total over $5000. But as I looked at the details it appears the shop only removed the front case and replaced some sprockets, guide rails, and the timing chain. They also had to replace the left side valve cover as the chain must have cracked or put a hole in it. There was no evidence that they removed the heads or that any valves replaced. They did some other miscellaneous work that raised the bill up but nothing related to "overhauling" the engine. We expressed our disappointment to the seller that he did not disclose to us the extent of the engine damage. In his defense, I don't think he was car savvy enough to realize that the repaired damage was any big deal. 
Since I had already spent the time getting my hunting kit together and driving all that way, I wanted to make him a lower offer and just take the risk and drive the car home. But Kaia pulled me aside and said, "Dad, you don't need this. This car does not meet our objectives and when are you going to have time to replace the engine. (I would not try to rebuild it. I would find a good used engine from another car.) And you don't even know yet if that transmission is going to be an easy fix!" After thinking it over, I had to admit she was right and we got back into my S500 and drove back to Bellingham. 
Too bad that owner had not read  my manual, " Preventing Catastrophic V8 Engine Failure."  He could have saved $5000!  Be sure to watch my Youtube videos on what I discovered when I removed the valve covers on my 300SEL 4.5. That car could have suffered the same fate.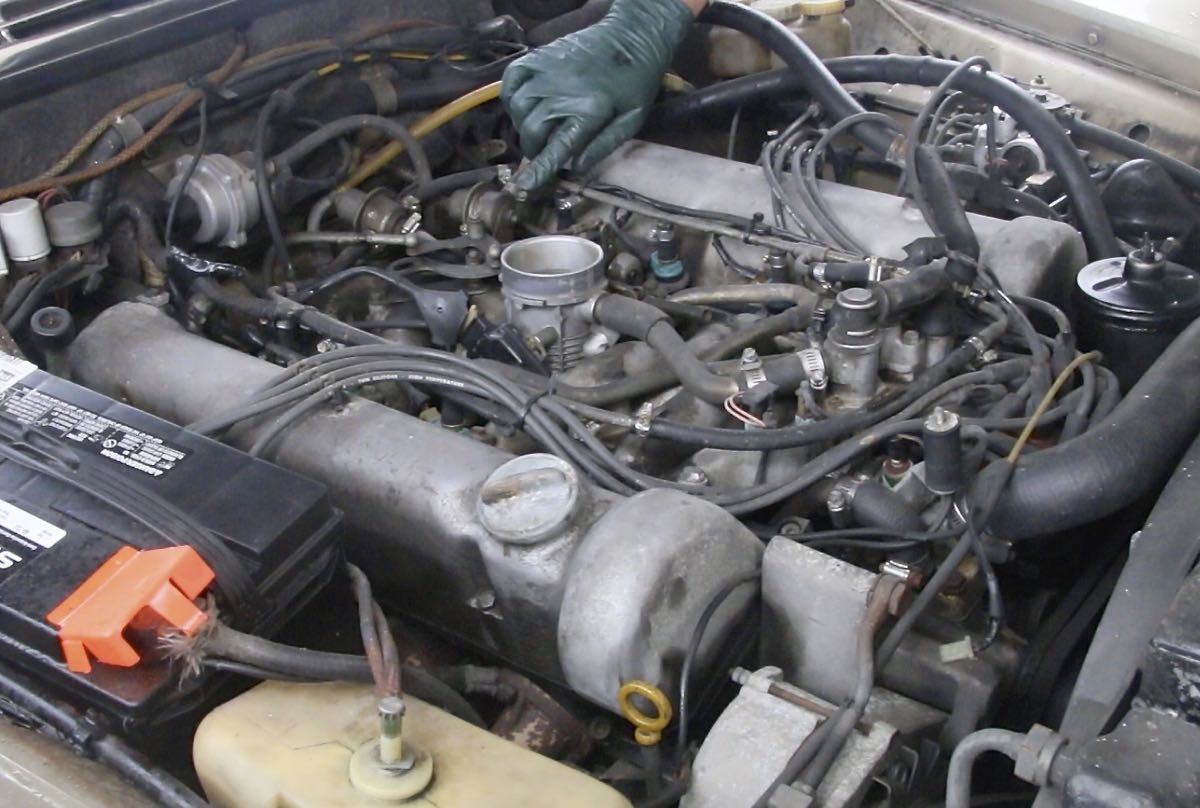 I know some of you will say, "Oh, that can be fixed, just pull and rebuild the engine and transmission, Kent. You already have a good rust free body!" That may be true, but it will not be quick or cheap. In theory, anything can be fixed, but should it be - and more specifically should it be fixed by me or by you!  As I get older, time becomes a more valuable commodity and I have to think twice about what I haul home. Kaia was the one to convince me to walk away. Our search for an R107 will continue... 
In the meantime to view all our current M116 and M117 repair kits and videos CLICK HERE.