CERAMIC alloy fuses that will prevent corrosion at the contact points in the fuse box
For 1969 to 1976 220 250 280 280C 220D 240D 300D.  This is the best electrical upgrade you can make for the buck! Have you been having electrical problems in your older chassis Mercedes? Maybe you have taken the fuse box cover off and wiggled a few fuses and it has solved the problem for a while. You probably noticed corrosion on the tips of the old aluminum fuses. Who ever designed these old fuses did not get a good education in dissimilar metal corrosion. You do not put aluminum up next to copper - add in moisture and heat and expect to not have corrosion problems.
114 115 Performance Fuse Kit Upgrade with Instructions
$10.95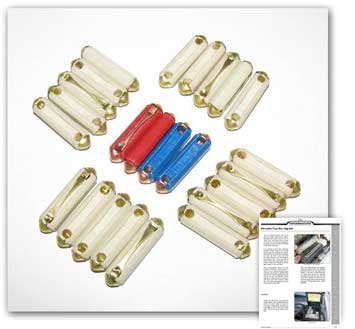 Product Details
We have found a source of brass/copper alloy high quality fuses that do not corrode in the fuse holders. We are changing out all the old aluminum fuses in every Mercedes we come across and are replacing them with this new type. No more intermittent or weird electrical gremlins!! Give your fuse box a good cleaning and install these fuses for peace of mind. Kit includes 20 of the 8 amp, 2 of the 16 amp and 2 of the long 25 amp.  Most 114 and 115 chassis use all 8 amp but we are including a few of the higher amp just in case you need them. This will give you plenty for spares. Open your cover check your fuse box condition out today!
Includes complete PDF detailed picture instructions for easy installation. 
How to view the PDF digital instructions:
Once you complete the purchase of this product you will be able to download the digital instructions immediately when you are logged in and on your personal account page (click on My Account). Any PDFs will show up under My PDF Manuals. You will be allowed three downloads, so please save the file on your machine for backup.
Use our search box to view all fuse kits available.
Related Products:
---