For all 114/115 chassis 220D 240D and 300D models with vacuum door locks built from 1968 to 1976. Now you can finally fix those pesky vacuum door locks yourself! Failure is almost always caused by vacuum leaks in the system. This 23 page manual with 55 photographs will take you step by step through the process of quickly finding and repairing those leaks.
114 115 Vacuum Door Lock Advanced Troubleshooting and Repair - By Kent Bergsma
$12.75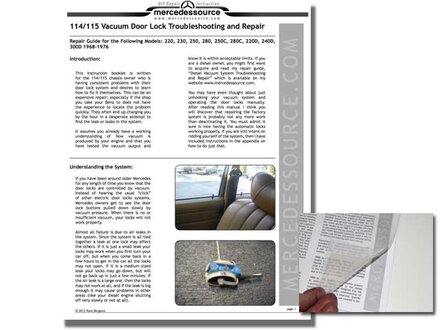 Product Details
Starting at the firewall and working all the way to the trunk/deck of your car, I will show you how to isolate the problems even without having to take the door panels off.
To aid in trouble shooting you will need to acquire an inexpensive vacuum hand pump. Normal hand tools are the only other things you will need.
PLEASE NOTE: as an added bonus I have included all the information contained in my 114/115 Door Maintenance and Repair in the appendix of this manual (no need for you to purchase that separately). This will show you how to properly remove your door panels and do other related maintenance inside your doors while you are working on the vacuum door locks. There are even instructions on how to properly deactivate the automatic door locks if you should so choose.
Related Products:
---