This Aux pump is essential to proper and steady heat control in applicable 1977 to 1993 Models - ONLY ONE AVAILABLE
FITS THE FOLLOWING, all 116, 123, 107, 126, and 201 chassis 1977 to 1993 (does not work in the W124 chassis). This is an original equipment Bosch electric water pump. If you are having heating problems this little unit is often overlooked. When your car is idling at a stop light there is not enough circulation in the engine coolant to get hot water moving through the heater core. This electric powered pump helps to push a consistent water flow through the core. When it fails it can create another problem as well. Not only does it not help push hot water through, but it will actually create a blockage in your heating system.
116 123 107 126 and 201 Chassis BOSCH Auxiliary Electric Water Pump
$119.95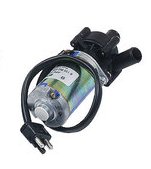 Product Details
If your cabin heat is dropping off while the car is idling, then this could be the culprit. It is located in the engine compartment between the two firewalls on the 126 in line the the heater hoses going into the fire wall. On 116 and 107 chassis it is close to the firewall on the passenger side. On the 201 and 123 chassis it is along the right inner fender panel at the frame rail. Find it - and with the engine running put your hand on it. You can usually feel the vibration if it is running. It will also leak and you will notice staining and possible coolant loss on longer trips. This part is not difficult to install yourself.
WARNING! WARRANTY IS VOID ON THIS UNIT IF USED IN ANY OTHER APPLICATION OTHER THAN ITS INTENDED PURPOSE ON FACTORY MERCEDES BENZ CLIMATE CONTROL SYSTEMS.