UPS GROUND ONLY - NO EXPIDITED SHIPPING!!!
Brand new Nissens Radiator fits 1981 to 1985 300SD and 1982 to 1985 300D, 300CD and 300TD with turbo engine. Nissens has made some great improvements in the plastics in their radiator tank and necks. The plastic is reinforced with a fiber to reduce the potential for the neck cracking or breaking off. We really like the quality of these radiators and use them exclusively on our personal cars. This is one case where OEM is not the best!
123 126 617 Turbo Diesel Nissens Radiator
$249.00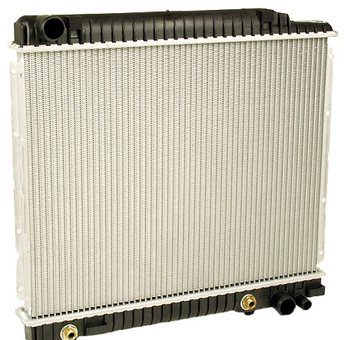 Product Details
We recommend you change the radiator hoses (listed below) and the coolant short hose at the water pump housing (listed below) at the same time. Also consider replacing the water pump if you have no record of it being done in the last 100,000 miles. They are not expensive and easy to replace with the radiator out of the car. Look below to view our water pump kit.
This radiator has a list price of $510.00. We are offering it to our customers at half of that!
Related Products:
---