1980 to 1983 Models ONLY: Made in Germany
Cleaning out your glow plug holes from excess carbon (coke) can increase fuel economy and will extend the life of your glow plugs. This important regular maintenance procedure is commonly neglected and will lead to rough starts, smoke at startup, decreased fuel economy, and engine shake.
123 240D Monark Pencil Glow Plugs with Carbon Reamer - PACKAGE DEAL
$78.95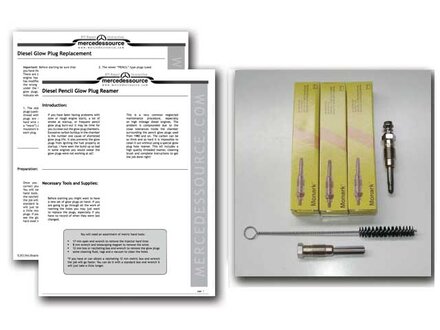 Product Details
Application: Fits all 4 cylinder 240D diesel engines from 1980 to 1983 with pencil glow plugs. Excellent quality. They are built with the same materials and have the same specifications as the Duraterm pencil plugs. Even comes with 4 high quality locking nuts for the wires.
Comes with 4 pencil glow plugs and reamer tool with complete instructions for replacing glow plugs and reaming glow plug chambers. Excess carbon build up in the prechamber is the no. 1 reason for premature glow plug failure. We recommend you always ream the holes with changing pencil glow plugs.
SVO WVO: If you are running SVO WVO fuel we have found that glow plugs may not last as long compared to running diesel fuel. The tips and chambers tend to coke up faster. Super important that you ream your glow plug chambers more often. These Monark plugs concentrate the heat more toward the tip and which keeps the glow plug ends cleaner.
Specifications: These Monark glow plugs are designed to be used with the original standard glow relay as well as the newer Monark upgrade pre-glow relays  sold separately that use rapid pre-heating time and and prolonged post-heating for up to 180 seconds at an average voltage up to 14V. Their twin heating coil design allows for the best performance under these two conditions. They meet or exceed the specifications of the Bosch Duraterm and are still manufactured in Germany.
_______________________________________________________________________________
How to view the PDF digital instructions:
Once you complete the purchase of this product you will be able to download the digital instructions immediately when you are logged in and on your personal account page (click on My Account). Any PDFs will show up under My PDF Manuals. You will be allowed three downloads, so please save the file on your machine for backup.
_______________________________________________________________________________
Kent highly recommends:
 Mercedes Anti-Seize Compound for Use on Critical Threads. You don't need much - sold in small air tight container. 
Anti-seize compound is an amazing product that can prevent frustrating and damaging thread seizure. Good quality copper based anti-seize is not particularly cheap and when you buy it in a larger tube or container it may take years to use it all... in fact you may never use it all. Since you only need a very small film on the threads the average DIY mechanic does not need very much on hand. We offer it in a air tight seal 1/2 ounce clear container with a screw lid and we only fill it half full! You may even find 1/4 ounce ends up being a lot!.
Related Products:
---