All wagons 1979 to 1985 --- It fits some euro model 116 and 123 with the same valve. Does not work on w124 or w126 560 SEL/SEC
The following symptoms may indicate you will need this resealing kit to repair your wagons self leveling valve:
123 300TD Wagon SLS Leveling Valve Reseal Kit - OE
$71.95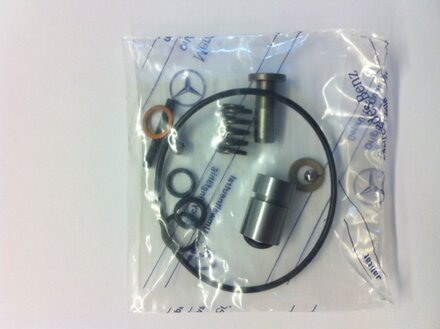 Product Details
Leaks evident between the halves of the valve housing (see picture)
Rear of wagon will not level properly when you load the back end
Rear of vehicle tends to drop overnight or when you turn the engine off
No instructions are currently available with this kit. Not a difficult job but you must be VERY careful to get the valve and arm assembly back together the same way it came apart or it will not work.
WARNING: I suggest you take lots of pictures before and during assembly and carefully make OBVIOUS reference marks in the relation of the shaft to the body and the leveling arm to the shaft.