New Release for all 123 240D 300D 300CD 300TD 280E 280CE 1977 to 1985
Front suspension overhaul is almost always left until one has fixed everything else on the car. We know that most owners can live with some looseness in the suspension, especially when you consider the age of the 123 chassis. But if you want to restore that great Mercedes factory feel and ride (that we all love!) there is no short cut but to replace all the rubber and wear parts in the lower section of your front suspension.
123 Chassis Lower Front Suspension Ultimate Restoration Kit
$259.00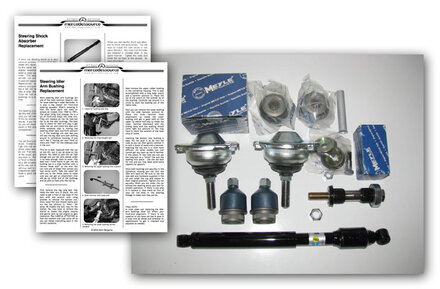 Product Details
NOTE: This kit does not include the upper control arms as we have found many have already replaced those as they often fail first. If yours have not been replaced and you want the full deal, then we recommend you also order those separately (enter control arm in the search box).
We decided to put a kit together with a killer price that would not leave you penny poor and give you some motivation to tackle this important maintenance job. The parts that we include in this kit fit all 123 sedans, coupes and wagons from 1977 to 1985:
Set of left and right lower ball joints
Set of left and right lower guide rod mounts (support joint)
Set of left and right lower control arm to frame inner bushings
Set of left and right guide rod to lower control arm mount kits
Idler arm bushing repair kit
New meyle steering shock absorber
Instructions are only included for the installation of the idler arm bushings and the steering shock. They are jobs that most home mechanics can do on their own. We do NOT recommend you install the other parts on your own unless you have the proper tools and experience with front end work. You do not need a Mercedes dealer or Mercedes independent mechanic to install the ball joints and control arm bushings. Any good front suspension shop will be able to install them at a reasonable price and since you will need a front end alignment anyway - you can get that done at the same time.
Just a note: Dealer list price on all these items combined is over $500! Save now by doing it all at once.
_______________________________________________________________________________
How to view the PDF digital instructions:
Once you complete the purchase of this product you will be able to download the digital instructions immediately when you are logged in and on your personal account page (click on My Account). Any PDFs will show up under My PDF Manuals. You will be allowed three downloads, so please save the file on your machine for backup.
_______________________________________________________________________________