1977 to 1985 240D 300D 300CD 280E - Receive a Related Bonus-Product FREE!
It is often mistakenly thought that rear vehicle sag is caused by bad shocks or weak springs.  Shocks are never the problem and only rarely are coil springs the culprit.  With a Mercedes suspension that uses numerous rubber parts, it is the deterioration and deformation of the rubber mounts and bushings that cause the subframe to twist and collapse.  Just replacing shocks or springs in most cases will not solve a sagging rear.
123 Chassis Sedan and Coupe Rear End Anti Sag Overhaul Kit
$146.50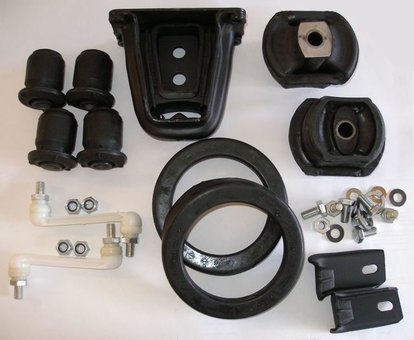 Product Details
Fix it right by replacing the parts that really wear out. Even if you think they look good that is no assurance they are.  Subframe mounts usually collapse on the inside where you can not see the damage. Differential mounts just slowly sag over time. Worn trailing arm bushings can cause uneven tire wear and clunking in the rear end. Replacing the spring shim can raise the rear end close to an inch. If you are going to have the parts installed professionally, a Mercedes specialist is not required.  A good suspension shop can do this work usually at less cost.
Fits all 240D 300D 300CD 280E and 280CE from 1977 to 1985 Sedans and coupes ONLY.  This kit includes the following parts:
Rear Differential Rubber Mount
Rear Subframe Rubber Mount Kit
Trailing Arm Rubber Bushing Set  (4)
Rear Stabilizer Plastic Links (2)
14 mm Medium Rear Coil Spring Rubber Shims (2)
*** PLEASE NOTE: SPECIAL NOTE TO 123 300TD WAGON OWNERS: Mercedes does call for a different part number for the 123 300TD. The part is only available from Mercedes and is very very expensive and most likley no longer available.  The mount dimensions are very close to the same. I have been told there is a difference in the hardness of the rubber as well.  I do not have the specs, but I know the sedan mounts can be made to fit and will work - especially if your old mounts are collapsed. Here is what I found when I compared them. They are very close in size and design (but not perfectly identical.)  You can order this mount kit for your wagon but keep in mind we cannot guarantee you will get the ride results you might be expecting (especially if you are a perfectionist). On the other hand if your wagon is sagging badly, mounts are cracked and collapsed and you dont want to spend $$$ then this might be a good option.  If ordered and installed in a wagon they are not returnable. If you want a perfect fit then you will have to order from the dealer.
Note: Replacement of of the trailing arm bushings and subframe mounts will require the removal of the entire rear subframe assembly. This is best done on a car lift with the aid of a transmission jack and a strong rolling table or bench.