Learn how to take the door panel off easily and without damaging it!
This repair guide covers all 123 chassis Mercedes sedans and wagons built from 1977 to 1985. Fits 240D 300D 300TD 300CD 280E Removing a 123 chassis door panel and doing related door maintenance and repair are all fairly easy jobs for the do-it-yourselfer. If you have not removed a door panel before, there are a few pitfalls. This guide will take you step by step on how to properly remove the door panels without damaging them.
123 Chassis Sedan and Wagon Door Maintenance and Repair - By Kent Bergsma
$12.95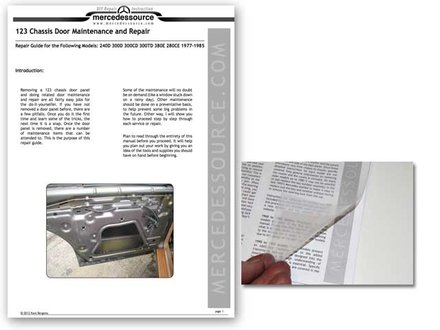 Product Details
Once a door panel is removed, there are a number of maintenance items that can be attended to which are also covered in this manual. These include door check replacement, window mechanism repair, lube and adjustments, replacing door seals, map pocket repair, door drains and lower door rust. This step-by-step guide is 10pages and loaded with pictures and useful tips related to your cars doors. It also comes bound with plastic smudge resistant covers.
Related Products:
---