Most people have not had the option before of just replacing the heater motor only in their 124 chassis due to the difficulty of removing and replacing the fragile squirrel cage fans on both ends of the motor. The alternative has been a very expensive replacement Bosch unit with fans installed that lists for $298.00. Now Mercedessource offers you an alternative to the high priced replacement unit that can be installed in all 124 sedans, coupes and wagons from 1986 to 1992 for under $100!
124 Chassis 260E 300E 300CE 300TE 300D 300TD Bosch Heater Motor w/ instructions & Install Tool
$126.75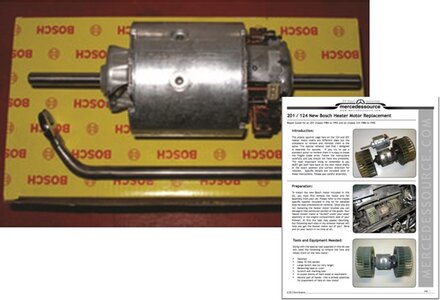 Product Details
The key is having a tool and instructions on how to remove and replace the fans. In this kit you will receive a new OE Bosch motor, the special fan removal tool and instructions on how to get the fans properly replaced on the shafts of the new motor. Why buy a used blower motor unit from a recycler when you can have a new Bosch motor for about the same price! And I guarantee you will love the quietness and power of these new motor.
IMPORTANT: This kit does not come with instructions on how to remove the heater motor unit from your car. It is assumed you have already done that or already know how to do it. If you have not done it before it can be challenging. I have another manual that covers unit removal and motor brush replacement. I highly recommend you also purchase that manual if you are not familiar with the removal process. Look below to add to your order.
Related Products:
---