Includes 124 Heater and A/C Motor Repair Manual by Kent Bergsma
For all Mercedes 124 chassis cars from 1986 to 1993. This includes the 260E, 300E, 300D, 300CE, 300TE, and 400E. This is the repair kit you 124 owners have been waiting for. As you can see the kit provides you with new brushes, an instruction booklet and even a set of aluminum heat shields to make the soldering job good smoother. If your blower motor has been intermittent or some days it wont come on until you drive for a while, your motor brushes are most likely at the end of their life.
124 Heater and A/C Motor Repair Kit with Brushes
$28.95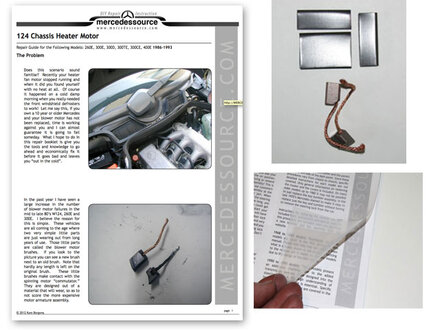 Product Details
Try this simple test. The next time you heater motor wont come on try slamming the door. See if it comes on and you will know what you have to do to fix it. 15+ year heater motor brushes are very prone failing at any time. If it has not failed yet it most likely will sometime soon.
You will need a soldering iron and a few common hand tools to complete the job. If your car has a over 150,000 miles on it or you know the heater motor has been run a lot, the best time to do this job is now! Don't wait for it to quit on you on a cold winter morning.
We also offer the manual separately if you are not in need of the brushes at this time. The manual can be purchased in either a printed and bound format or in an electronic PDF format that is immediately delievered to your Mercedessource.com account. Both are listed below.
IMPORTANT: If you are planning to replace your heater motor brushes I highly recommend you have a high output soldering pencil on hand. If you don't, then I recommend you purchase the one we sell on our website. It is a powerful 60 watt unit and works great! Look below to view.
Related Products:
---