For all models with the M103 6 cylinder engine--- NOW SHIPPING HENGST BRAND Comes with complete installation manual on all fuel pump components
The large capacity fuel filter is designed to remove water and particulates from your fuel before it reaches critical engine injection components. When the filter starts to become plugged you may experience power loss at speed, engine stumbling, and hard starting. This filter should be replaced every 30,000 to 40,000 miles. Age will depend on quality of fuel and how often you drive the car.
190E 300E 300SE 300SEL Main Fuel Filter w/ Instruction Manual
$32.95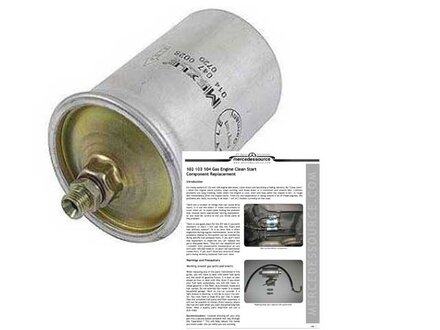 Product Details
IMPORTANT NOTICE: This filter unit comes with Kents complete instructions. If you do not need instructions and would prefer to purchase at a lower price look below to order.
Fuel filter is located above plastic cover plate under the car (below right rear seat). We also recommend you replace the accumulator and fuel pump check valves unless that job has been done recently.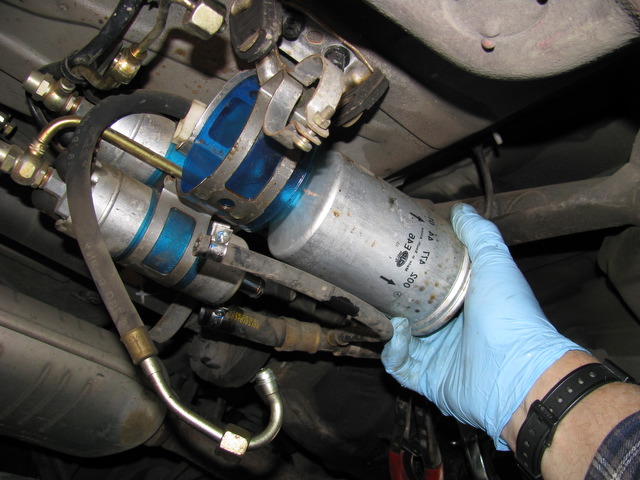 Filter fits the following models with applicable engines.
MERCEDES BENZ 260E
MERCEDES BENZ 280CE
MERCEDES BENZ 280E
MERCEDES BENZ 300CE
MERCEDES BENZ 300E
MERCEDES BENZ 300SE
MERCEDES BENZ 300SEL
MERCEDES BENZ 300SL
MERCEDES BENZ 300TE
MERCEDES BENZ 380SE
MERCEDES BENZ 380SEC
MERCEDES BENZ 380SEL
MERCEDES BENZ 380SL
MERCEDES BENZ 380SLC
MERCEDES BENZ 400E
MERCEDES BENZ 400SE
MERCEDES BENZ 400SEL
MERCEDES BENZ 420SEL
MERCEDES BENZ 500E
MERCEDES BENZ 500SEC
MERCEDES BENZ 500SEL
MERCEDES BENZ 500SL
MERCEDES BENZ 560SEC
MERCEDES BENZ 560SEL
MERCEDES BENZ 560SL
MERCEDES BENZ 600SEC
MERCEDES BENZ 600SEL
MERCEDES BENZ 600SL
MERCEDES BENZ C220
MERCEDES BENZ C280
MERCEDES BENZ CL500
MERCEDES BENZ CL600
MERCEDES BENZ E320
MERCEDES BENZ E420
MERCEDES BENZ E500
MERCEDES BENZ S320
MERCEDES BENZ S420
MERCEDES BENZ S500
MERCEDES BENZ S600
MERCEDES BENZ SL320
MERCEDES BENZ SL500
MERCEDES BENZ SL600
MERCEDES BENZ 190E 2.3
MERCEDES BENZ 190E 2.3-16
MERCEDES BENZ 190E 2.6
MERCEDES BENZ 300E 2.6
MERCEDES BENZ 300E 2.8
MERCEDES BENZ 300E 4MATIC
MERCEDES BENZ 300TE 4MATIC 
Related Products:
---