A favorite of young and old alike!
IMPORTANT NOTE: If you are interested in purchasing this car, do not try to check out and pay for it through our website.  Please email us through our Contact Us link on our website or send directly to sales@mercedessource.com. This little ole diesel is affectionately known as "Tuxedo." If you have watched many of Kent's YouTube videos, you have probably already seen it up close. Keep in mind that even though this car has only 73,000 miles on it it is not like a newer car with only 73K. This is a 57-year-old car that has not been restored! This is a fine example of what is now being called a "Preservation Vehicle." When Kent bought it 6 years ago from the second owner, he wanted to keep it original down to the scratches and door dings in the paint. What makes this Ponton so unique is its cancer free body. Of course, it does have some minor surface rust under the car but there are no rust holes under the car or rust bubbles in the paint anywhere. The original cloth interior is in amazing condition for its age. Kent has filmed quite a few videos on this car so rather than describe it in more detail in words,  just sit back and watch the videos below.
1959 Mercedes 180D Diesel Sedan "Tuxedo" for Sale - 73,000 Original Miles
$14,900.00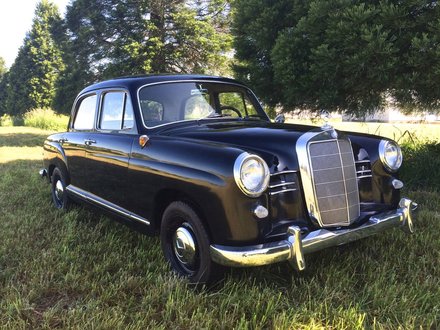 Product Details
There are 7 more videos that Kent has filmed on this car beginning shortly after he brought it home in 2010. The view the full playlist of these videos click on this link: https://www.youtube.com/playlist?list=PLtRKk64pu2wpdzo44PYuFd6unzToAIQkY
This has become Kent's grandson's favorite Benz to ride around in. He now likes it even more than Happier. When he comes to the shop he always says, " Grandpa, I want to go for a ride in Tuxedo." He is not going to be very happy when he finds out it has been sold. 
Keyword search for all Kent's used and new old stock treasures he has collected and is now selling: treasure or treasures. Kentscarsforsale