107 108 109 111 113 114 115 116 123 and 126 chassis - NOT for 201 or 124 Chassis
FITS THE FOLLOWING: all W107, W108, 109, W111, W113, W114, W115, W116, W123 and W126 chassis from 1969 to 1991. NOTE: Four pads included for both sides of rear axle. Tired of squeaking or squealing or hard brake pedal feel? These are amazing brake pads. The built in anti-squeal plates will eliminate chatter between the caliper piston and back of pad. The cut slot in the center reduces heat and keeps the pads clean. 
1969 to 1991 Rear Brake Pads w/ Anti Squeal Pads installed and Instructions
$25.50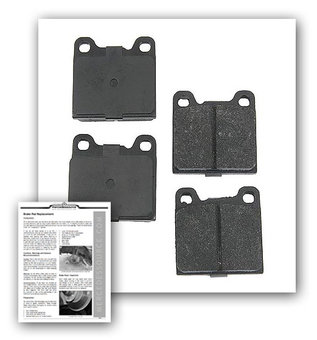 Product Details
We recommend you use Genuine Mercedes Brake Pad Paste when installing new pads.  Applied to the side edges of the metal part of the pads will assure you have no annoying squealing "down the road." Look below to add to your order.
_______________________________________________________________________________
How to view the PDF digital instructions:
Once you complete the purchase of this product you will be able to download the digital instructions immediately when you are logged in and on your personal account page (click on My Account). Any PDFs will show up under My PDF Manuals. You will be allowed three downloads, so please save the file on your machine for backup.
_______________________________________________________________________________
Fits the following models of the chassis and years listed above:
Mercedes-Benz 220 Mercedes-Benz 220D Mercedes-Benz 230 Mercedes-Benz 240D Mercedes-Benz 250 Mercedes-Benz 250C Mercedes-Benz 250S Mercedes-Benz 250SE Mercedes-Benz 250SL Mercedes-Benz 280 Mercedes-Benz 280C Mercedes-Benz 280CE Mercedes-Benz 280E Mercedes-Benz 280S Mercedes-Benz 280SE Mercedes-Benz 280SEL Mercedes-Benz 280SL Mercedes-Benz 300CD Mercedes-Benz 300D Mercedes-Benz 300SD Mercedes-Benz 300SDL Mercedes-Benz 300SE Mercedes-Benz 300SEL Mercedes-Benz 300TD Mercedes-Benz 350SD Mercedes-Benz 350SDL Mercedes-Benz 380SE Mercedes-Benz 380SEC Mercedes-Benz 380SEL Mercedes-Benz 380SL Mercedes-Benz 380SLC Mercedes-Benz 420SEL Mercedes-Benz 450SE Mercedes-Benz 450SEL Mercedes-Benz 450SL Mercedes-Benz 450SLC Mercedes-Benz 500SEC Mercedes-Benz 500SEL Mercedes-Benz 560SEC Mercedes-Benz 560SEL Mercedes-Benz 560SL
Related Products:
---