Must be picked up in Bellingham, Wa. Will not ship. Watch the video below for a detailed walk-a-round and look inside.
This is a hard-to-find 123 station wagon engine with the drive gear on the head to run the hydraulic pump. This engine can be installed in a sedan or coupe but you would only need to put a flat cover plate over the drive gear. Please do not try to check out online to purchase. Please email sales@mercedessource if you are interested in buying it. Payment to be made in cash at the time of pickup. Watch the detailed video below for more details. 
1981 to 1984 300TD Wagon Turbo Diesel Engine - Recently Rebuilt
$3,450.00
Sale
$2,800.00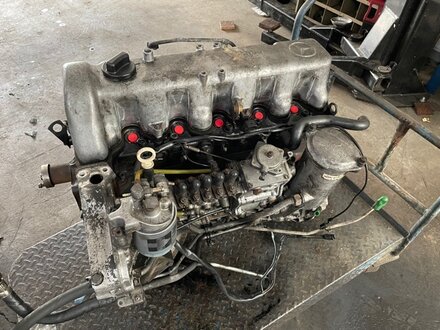 Product Details
 Many accessory parts including the turbo have been removed since the video was filmed. Most all parts missing  can be used from your existing engine. What you see is what you will receive upon pickup (in the two photos - NOT the video). Parts and accessories not listed below are NOTincluded.
Here is what you would receive.
Engine long block with cylinder head, camshaft, timing chain and rocker arms
Engine oil pan and valve cover
Flywheel for automatic transmission
Water pump and water pump housing
Engine fuel filter assembly and bracket
Fuel injection pump
Oil filter housing