For 190E, 260E, 300E, 300CE and 300TE to mid 1989 ONLY - Limited Stock - NO LONGER MADE!!!
NO EXPEDITED SHIPPING. Please expect up to 5 working days before the unit can be shipped. We will custom assemble them upon ordering.
1984 to 1989 W201 and W124 Chassis Gas Engined Ignition Lock Assembled with Tumbler NO SWITCH
$226.00
SKU:
GEG-E124locknoswitch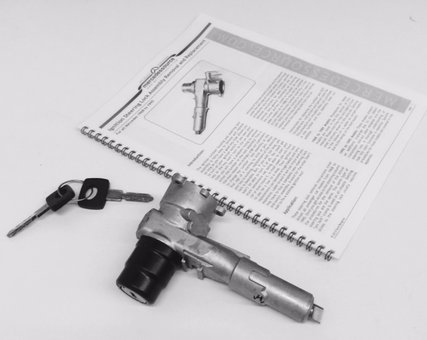 Product Details
If your key is stuck or sticking we recommend you consider buying a new steering lock and key w/tumbler assembly to solve the problem completely. If you can not turn the key at all then the manual included with this assembly will show you how to remove your old steering lock without having to drill through the tumbler assembly. You will need to remove the instrument cluster and the lower dash panel to easily access the igntion steering lock assembly.
This part contains a new Genuine Mercedes steering lock assembly,  as well as a new aftermarket tumbler assembly with two keys as shown. INSTRUCTION MANUAL IS INCLUDED. Kent assembles this in our shop to make sure everything operates properly. They are not that easy to put together and this way you know it will be right! Does not come with electrical switch that mounts on the back of the steering lock housing. You can used the one currenly on your old steering lock or order one separately from us. (SEE RELATED PRODUCTS BELOW). You will also have to take the buzzer switch off your old unit and install on this one. Instructions for doing that are also covered in the manual.
PLEASE read full description carefully to make certain this will work on your Benz . We do not want you ordering the wrong part!
This ONLY fits 4 and 6 cylinder gas engine cars in the 201 and 124 chassis as mentioned above
Do not order if you have a diesel engine - I repeat DO NOT ORDER 
Will NOT work in any cars after mid 1989 that have brake pedal and transmission shifter lockout security system
If you have to turn the key on and push the brake petal to shift the transmission THIS PART WILL NOT WORK.
If you do have the type that has the transmission shifter lockout please see related products below.
Do not be alarmed with you received this new lock.  The cutout for the diesel vacuum switch as shown in the picture below is left open and is not needed for your car!