SPECIAL ANTI-RUST COATING! Looking for better performance with less brake pad dust at a fantastic price? And with INSTRUCTIONS!!!
This rear brake performance kit fits all 201 190E and 190D 1984 to 1993 and all 124 chassis 260E 300D 300E 1986 to 1993 WITHOUT ASR or Traction Control. For best performance and long life we highly recommend you install new rotors when converting to ceramic brake pads. As an introductory special are selling this complete kit for just over half of the list price of $139.00!
201 and Early 124 Chassis REAR Ceramic Brake Pads with New Rotors
$92.50
SKU:
BRK-201/124REARCERAMKIT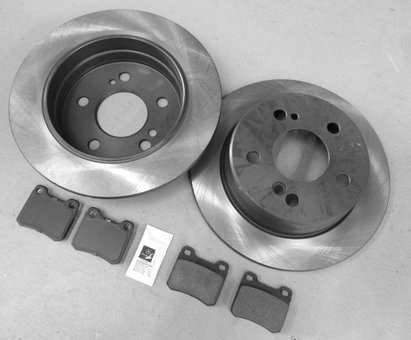 Product Details
Kit contains the following:
Set of rear ceramic brake pads with shim plates
Two new rear rotors with black anodized coating to minimize rust
One packet of Genuine Mercedes Brake Pad Paste
Installation Instructions.
Be sure to view Kent's videos explaining the differences and show the results on his own cars.  CLICK HERE TO VIEW VIDEO.
If your rear rotors are in good condition and you only need pads use the search box to order separately.
_______________________________________________________________________________
How to view the PDF digital instructions:
Once you complete the purchase of this product you will be able to download the digital instructions immediately when you are logged in and on your personal account page (click on My Account). Any PDFs will show up under My PDF Manuals. You will be allowed three downloads, so please save the file on your machine for backup.
_______________________________________________________________________________