Fits the following: All 201 chassis. If you own a 1984 to 1993 190E or 190D this is a great resource guide, printed in 8.5x11 format and bound with smudge resistant plastic covers. You may not need it right now but I can almost guarantee that you will sometime in the future. How would you like to get into the center dash console and the shifter plate wood cover to replace switches and components without damaging your wood?
201 Center Console Removal Manual - By Kent Bergsma
$11.95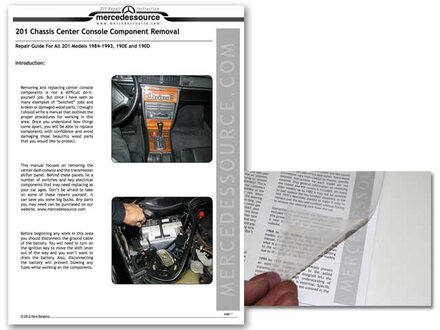 Product Details
This manual will take you step by step through the correct process of doing just that. Each step is illustrated with a picture and clear instructions. It does not tell you how to fix everything behind the wood, since most of the components are remove and replace. It does show you how to get all the switches and related components out and back in with a minimum of frustration AND time.