Want better braking performance with less brake pad dust at a fantastic price? And with PDF INSTRUCTIONS!!!
This front CERAMIC brake pad upgrade kit fits all 201 Chassis 190E and 190D 1984 to 1993. For best performance and long life we highly recommend you install new rotors when converting to ceramic brake pads. If your rotors are recently new and free of scoring then replacement is not needed. Keep in mind though, if your rotors are scored and you install ceramic pads they will take longer to seat in before you will get that solid responsive brake pedal feel.
201 Chassis FRONT Ceramic Brake Pads w/ BONUS Sensor Wires and Paste
$38.50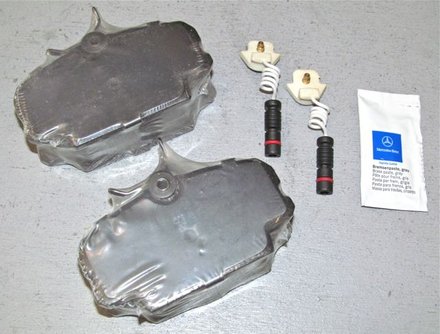 Product Details
Kit contains the following:
Set of front ceramic brake pads with built in shim plates
Two new brake pad sensor wires
One packet of Genuine Mercedes Brake Pad Paste
PDF Installation Instructions.
Be sure to view Kent's videos explaining the differences and show the results on his own cars.  CLICK HERE TO VIEW VIDEO.
We do have a money saving ceramic front brake kit that includes new rotors. To learn more search our brake kits.
_______________________________________________________________________________
How to view the PDF digital instructions:
Once you complete the purchase of this product you will be able to download the digital instructions immediately when you are logged in and on your personal account page (click on My Account). Any PDFs will show up under My PDF Manuals. You will be allowed three downloads, so please save the file on your machine for backup.
_______________________________________________________________________________