Applies to 190E and 190D Models
FITS ALL 190E and 190D 1984 TO 1993. This is the repair manual you 201 owners have been waiting for. If your blower motor has been intermittent or some days it will not come on until you drive for a while, your heater motor brushes are most likely at the end of their life.
201 Chassis Heater and A/C Motor Repair Manual Only
$11.50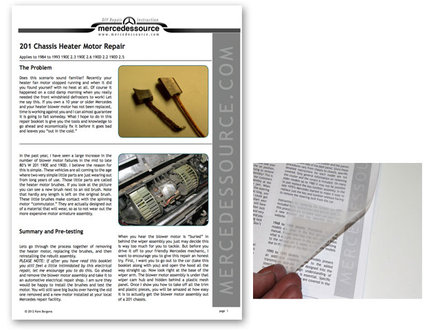 Product Details
Try this simple test. The next time your heater motor will not come on try slamming the door. If it suddenly starts running it could be that the brushes are just not making good contact. If your 201 has more than 120,000 miles total,  then the brushes are something you may want to replace as a preventative measure. Heater motors that are 15 years old or older are very prone to failing. If it has not failed yet, most likely it will sometime soon.
The reason most owners do not replace the heater motor as a preventative measure is the cost. Dealer cost on a new heater motor assembly is over $400.00! and a bunch more to install it. And dealers do not provide overhaul kits or replacement brushes either. At that price I would wait until it failed too! I have a way to beat the system ,but it takes a little elbow grease. The best time to do this job is now! You do not want to wait until it gets really hot or really cold to have the blower motor fail on you. You will get the satisfaction of beating the system and the pleasure of having done it yourself.
This manual covers instructions only. Printed and bound with a  smudge resistant cover in 8.5x11 format. It will help you get to and test your heater motor. It will also show you how to remove and replace your windshield wiper mechanism. We also offer this manaul in a PDF Download format, see below to order.  The HEATER MOTOR BRUSHES NOT INCLUDED. If you need the brushes right now with the manual then order below.
IMPORTANT: If you are planning to replace your heater motor brushes I highly recommend you have a high output soldering pencil on hand. If you don't, then I recommend you purchase the one we sell on our website. It is a powerful 60 watt unit and works great! You can find it in the Tools and hardware category.
Related Products:
---