For 1981 to 1983 engines that have not been converted to twin. Recommend Replacement every 25,000 miles
Many have been told if they have a single row timing chain on an early 380 engine they should convert to a twin row chain. I personally do not recommend this. Problem is most of the cars are just not worth the money and time required to make this conversion. If you love the car and just have to keep it here are three options:
380SL 380SE 380SEL Single Row Timing Chain Replacement
$69.50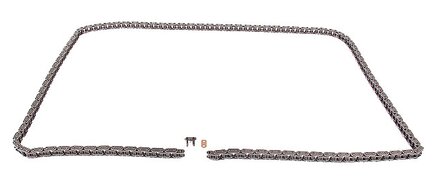 Product Details
Find a good used complete 380 engine with a twin row chain and install the whole engine
Upgrade to a newer model 126 or 107.  I like the late 126 300SE or 300SEL
Install a new single chain and replace it every 25,000 miles.
The last option is the cheapest way to go and can continue to work as long as you change your oil every 3000 miles and replace the chain every couple years (25,000 miles). This will help to greatly reduce the risk of having a catastrophic engine failure. List price is $130.00
RECOMMEND you also replace the tensioner every 100,000 miles. Look below to order.
Related Products:
---