This special 32 point tool is needed to replace the valves or the repair leaking seals
Leaking fuel injector pumps have become a very common problem in the 60x. engines produced from the mid 1980s to the late 1990s. The early 60x. group includes the four cylinder (601) engine that came in the 1984-1986 190D 2.2, the five cylinder (602) engine that came in the 190D 2.5 and 300D 2.5 from 1986 to 1993, and the 6 cylinder (603) engine installed in the 124, 126, and 140 chassis 300D / TD (1987 only), 300SDL and 350SDL from 1986 to 1993, and the later 606 engine in the E300D from 1995-1999, turbo OR Non turbo.
601 602 603 and 606 Diesel Injection Pump Delivery Valve Removal Socket
$39.95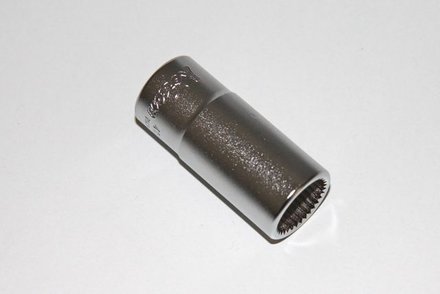 Product Details
These were Mercedes new class of diesel engines with aluminum cylinder heads. All turbo models can be easily recognized by the flat intake manifold that goes from the turbo side of the engine over the middle center of the engine valve cover. The newer style injection pumps on these engines also have delivery valves on the top of the pump that are sealed with a rubber o-ring. Yup, guess what happens with 15 to 20 year old rubber o-rings? If you have no record of these o-rings being replaced I recommend you do it NOW!

But the ONLY way you can remove the delivery valve holders that you see below is with this special 32 point socket. 
NO INSTRUCTIONS ARE INCLUDED WITH THIS TOOL!!!   Complete instructions come with our delivery valve leak fix kit. (Note: tool is purchased separately) To purchase the reseal kit only or the reseal kit with this socket please see related products below:
Related Products:
---