For 220D 240D 300D 300CD 300TD 300SD 1969 to 1985
We want to help you get your diesel performing better. If you own more than one older Mercedes diesel here is you chance to purchase 10 nozzles and heat shields for a fantastic price. If your injector tips are worn out here are my recommended replacements. These injector tips are made in Germany and they are designed with a finer mist pattern than that produced by the Bosch tips. My experience has shown that these tips work better (fuel burn) especially on higher mileage diesels with less than perfect compression numbers. On my own diesels I have also noticed less injector nailing (pinging noise) with these tips installed.
615 616 617 Mercedessource Diesel Fuel Injector Nozzles 10 Pack with Instructions
$289.00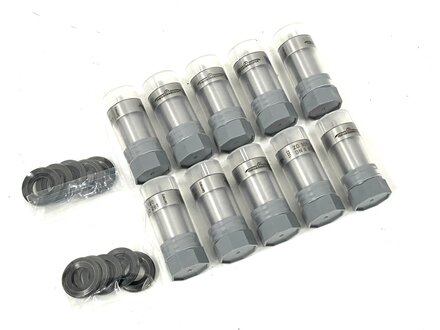 Product Details
Applicable for all 4 and 5 cylinder diesel engines 1968 to 1985.  
 12 month warranty provided on Mercedessource Nozzles when all assembly precautions are followed (as detailed in included instructions).
Ideally you should pressure test and set the correct release pressure when installing new tips. If there is a Bosch repair facility near by you can have them do this testing/adjusting for you. You can install these tips without checking adjustment and in many cases they will fall into an acceptable pressure/spray pattern range. This might be preferable to badly worn out fuel injectors - but best to test pressures to know for sure.
NOTE: If you are running SVO WVO or B100 these have the highly touted DN OSD 261 specification. Many, including myself, have reported great results with these nozzles when running heavier viscosity fuel.