Fits OM617 Turbo Diesel 1978 to 1985 300SD 300D 300CD 300TD - ONLY ONE turbo charger AVAILABLE like this.
PLEASE allow 5 days for shipping. Kent overhauls these himself. You will receive an Inspected, cleaned, and rebuilt turbocharger unit as shown. New sealing rings and shaft bushings installed. It includes the aluminum front compressor housing. NOTE: Turbine housing and wastegate assembly are not included as you can use that from your existing turbo.
617 Diesel Garrett T3 Rebuilt Turbocharger w/Instructions Ready to Install
$585.00
Sale
$499.00
SKU:
DSL-COMRBTT3- 04-USED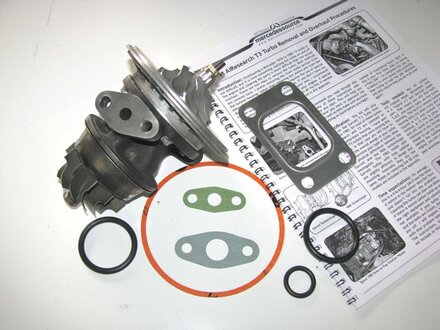 Product Details
This was a low-time turbo that was taken apart, fully cleaned, and inspected. It may have been a recent replacement. The lack of wear on the housing bushing locations confirmed this.  All parts came from the same original turbocharger. 
EXTRA BONUS. Also included ALL installation seals and o-rings as shown here plus Kent also includes his complete overhaul instructions (at no extra charge) which will show you how to get your old turbo off and this rebuilt unit back on your engine. 
WARNING: This does not work for a replacement for the KKK turbocharger.
Related Products:
---