Fits 1980 to 1983 240D and 1980 to 1981 300D/CD - NO LONGER AVAILABLE
This is the new factory genuine transmission vacuum modulator valve with adjustment key and cap. Failure of this part can lead to harsh or jerking shifts and in some cases prevent the transmission from shifting into 4th gear. There are other things that can cause problems with poor shifting, so there is no guarantee this new part will fix them. But due to the cost and ease of installation this is a good place to start.
722.1x Red Body Diesel Automatic Transmission Vacuum Modulator With Instructions
$195.00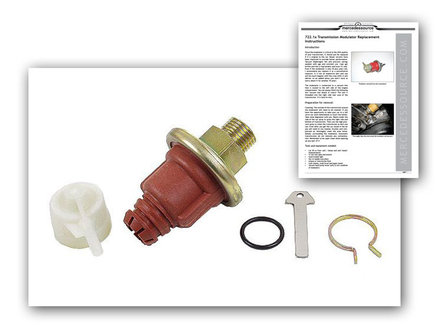 Product Details
IMPORTANT: I have found modulators are often only good for 15 to 18 years. Just image how many times that diaphragm is moving in and out while you are driving. My recommendation is that you replace it first when troubleshooting transmission shifting problems. Proper adjustment is required and you can not do it by guess or by feel. Once you know the modulator and pressure are correct you can move on to vacuum system troubleshooting and fine tuning. 
NOTE: Modulator pressure adjustment and vacuum tuning instructions ARE NOT included.
The modulator is located on the right rear side of the transmission. A vacuum line coming from the engine compartment is plugged into the nipple on the cap. A loose vacuum connection or failure of the valve diaphragm causes hard or abrupt shifting. Please inspect your valve before ordering this replacement. Modulator pressure should be checked any time you are debugging shift problems. It must be checked and adjusted when installing a new modulator. When the modulator pressure is too high or too low your transmission will suffer. Adjustment is accomplished by attaching a pressure gauge to a test port on the transmission and adjusting spring pressure inside the modulator.
Be sure to check the vacuum hose rubber connector first.
_______________________________________________________________________________
How to view the PDF digital instructions:
Once you complete the purchase of this product you will be able to download the digital instructions immediately when you are logged in and on your personal account page (click on My Account). Any PDFs will show up under My PDF Manuals. You will be allowed three downloads, so please save the file on your machine for backup.
_______________________________________________________________________________