For all 615 616 617 601 602 603 engines 1961 to 1995 - No Instructions
PLEASE NOTE: These eight shims will not likely be enough to adjust a full set of 4 to 6 diesel injectors. This is a -fill in-kit and will help when you need extra THIN shims to adjust one or two injectors on models 190D 200D 220D 240D 300D 300CD 300TD 300SD 300SDL and 350SDL.
8 Pc. 0,05 mm Thin Shims For Diesel Fuel Injector Pressure Adjustment
$6.25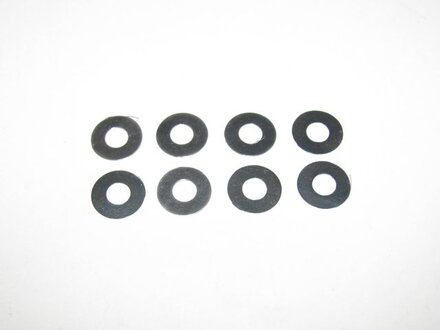 Product Details
We also have a set of eight 0,10 mm shims which are slightly thicker look below to order.
To measure the thickness accurately you will need a good metric digital caliper. If you do not have one of these in your tool kit we offer one on this website for a very attractive price. Look below to view this caliper. We also carry a full tool kit for cleaning, tuning and overhauling your fuel injectors.

For our full 24 pc. shim kit that will allow you to adjust most sets of injectors look below.
Related Products:
---