You don't need much - sold here in small air tight container
Anti-seize compound is an amazing product that can prevent frustrating and damaging thread seizure. Good quality copper based anti-seize is not particularly cheap and when you buy it in a larger tube or container it may take years to use it all... in fact you may never use it all.
Anti - Seize Compound for Use on Critical Threads - in Screw Lid Container
$2.95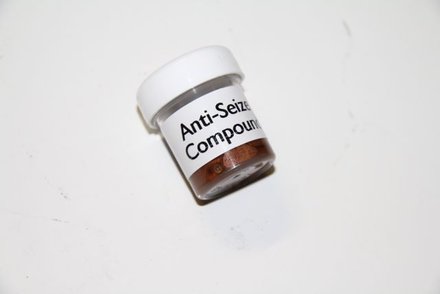 Product Details
Since you only need a very small film on the threads the average DIY mechanic does not need very much on hand. We offer it in a air tight seal 1/2 ounce clear container with a screw lid and we only fill it half full! You may even find 1/4 ounce ends up being a lot!. Check out our application tool kit that has everything you need for applying compounds and greases, look below.
Advantages of Anti-Seize Compound: This compound should be used anytime you are threading a steel bolt into an aluminum threaded housing. Like the water pump to water pump housing bolts or the thermostat housing bolts. This will prevent dissimilar metal corrosion. Always use when installing steel bolts through aluminum arms. Like the alternator brackets on the old diesels. Also great for spark plugs and glow plugs to prevent seizing and gallling upon removal. Great for brake parts. You only need a very thin film to prevent corrosion but this is a must have compound.
NOT RECOMMENDED: Never use this compound on brake caliper or wheel lug bolts! This can cause these high stress bolts to loosen up.
RECOMMENDED: Kent recommends that you ALWAYS use a light film of anti-seize on the threads when installing spark plugs in a gas engine and glow plugs in a diesel.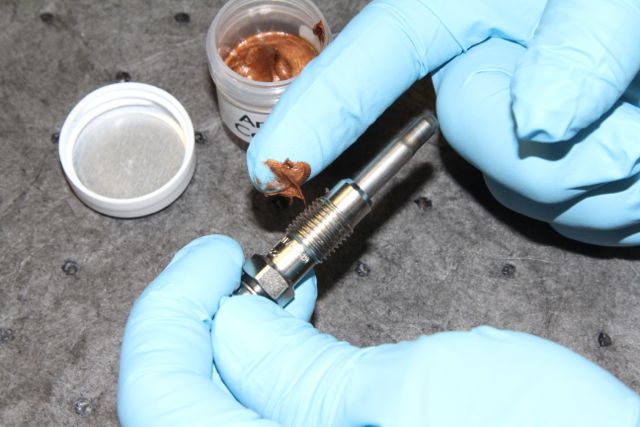 Related Products:
---