Good for almost all rusty, creaking, squealing car door with metal strap style stops and standard pin door hinges
Have you ever been embarrassed by opening and closing one of your car's doors? What is that annoying noise bystanders may ask? This little lube kit can help with that noise on almost any car with metal straps door check straps / stops - not just Mercedes Benz! The trick is the find the right lubricant and applicator to get it down inside the door without have to take the door panel off.
Anti Squeal Door Check / Stop and Hinge Lubrication Kit
$10.75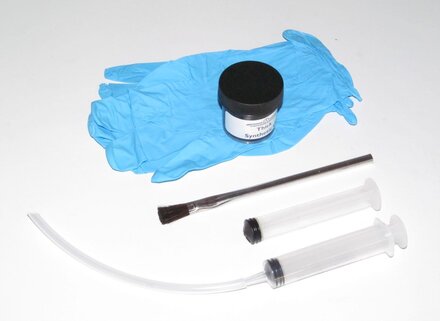 Product Details
Watch Kent's video on how to use this kit. You will get to see some actual results from fixing a VERY BAD and noisy door check on a Chevrolet Suburban. 
This kit can also be used to lubricate the newer style Mercedes door hinges that do not have to small " grease gun fitting." To learn more about this watch the second video.
PLEASE NOTE: If you leave oil inside the syringe it can swell the rubber plunger. Best to clean the syringe after use. An extra plunger is included for extended use. 
Related Products:
---