This manual is part of our Advanced DIY Mechanic Series. It covers advanced procedures in simple terms with photos to illustrate every step. The format size is 8.5 x 7 inches. It is printed on 28 pound stock paper and is wire bound to allow it to stay open when on your workbench. 
Automatic Transmission Removal and Replacement by Kent Bergsma
$23.50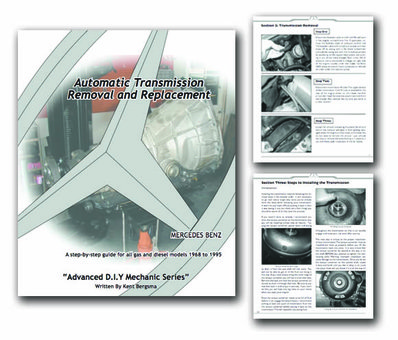 Product Details
Covers 107 108 114 115 116 123 126 201 124 Chassis from 1968 to 1993.
If you plan on removing your auto transmission anytime soon this is a must-have manual that will walk you through the steps of removal and replacement in an easy to understand format. The tips and cautions presented will help you avoid many of the pitfalls experienced by other Mercedes owners who have attempted this job on their own. This covers all Mercedes models with Automatic Transmission from 1968 to 1993. It includes information on the type of tools you will need to successfully complete the job without pulling your hair out!
PLEASE NOTE: This is NOT a manual on how to repair or adjust your transmission. This only covers the steps for removing and replacing an automatic transmission in your Mercedes.
LEVEL OF DIFFICULTLY:
The job is time consuming due to the number of bolts and connections that have to be removed. If you are confident in replacing a water pump you can do this job if you have the right tools and equipment. Although a car lift is preferred, you can do the job on the floor of your garage provided you get the car safely supported a couple feet off the ground. Here is a short list essentials that are explained in more detail in this manual.
 A good strong helper - for safely do not try to do this job alone
Large heavy duty floor jack, jack stands or car ramps if doing this on the floor (lift of course is easier)
1/2 inch drive heavy duty 10 mm hex socket (allen) for starter bolts
2 to 3 feet of 1/2 inch drive extensions ( these can be ganged together)
Large channel lock pliers to loosen drive shaft
Good assortment of metric allens, sockets and wrenches
3/4 inch plywood plate to balance transmission on floor jack (if required)