For most Mercedes from mid 1960's to mid 1990's with dual piston disk brakes. This will make rebuilding your old calipers easier and less frustrating
PLEASE NOTE: No written instructions are included with this kit.  We have (3) ON DEMAND VIDEOS  available for purchase separately that cover the entire rebuilding process. Please see links below.
Brake Caliper Rebuild Tool Kit
$22.50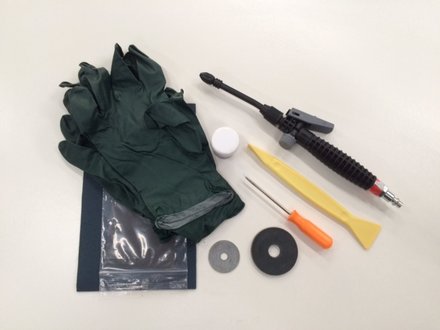 Product Details
Kent put together this little tool and supplies kit that will really help you if you should decide to rebuild your brake calipers yourself. Some of the older style calipers are getting harder to get and rebuilts are no longer available. Rebuilding them yourself is not difficult with the right tools and instructions. Most of the work is in the labor or taking the calipers apart, cleaning and painting them. There are some tricks you should know though in order to get them back together properly so the repair will last. 
The kit includes the following and works on twin piston calipers on the  W111, W112, W113, W108, W109, W114, W115, R107, W116, W123, W126, and rear brakes on W201 W124, R129, and W140:
Modifying air gun sprayer with restriction orifice added
Modified pick tool to clean sealing grove in caliper
Plastic scraping tool
2 large washers
Special Hi Temp Caliper Assembly Paste
Assortment 320 to 2000 grit wet sandpaper
2 pairs of heavy duty green nitrile gloves
Separate instructions are available and come in video format in a three part series. Part 1 is needed if you have frozen pistons that you can not remove with compressed air. Part 2 covers the cleaning, painting, and prep of the calipers. Part 3 covers the reassembly of the caliper with a new seal kit (sold separately). These parts cover in detail the critical assembly sequence if your older calipers should have notched or recessed pistons. See related products below to purchase any or all of these instructions separately.
Related Products:
---