Change your dash light color preference for the occasion in your W123 or W126 in just 5 minutes.
Customers often can not decide. They ask us which one color is the best? That is hard to say since it is such a personal preference. So we decided to offer 3 sets of our most popular 5th generation LED dash lights so you can try each one and decide for yourself! You will get warm white, bright white, and orange bulb sets in this kit. As an added bonus you will get Kent's 16-minute on-demand video ($12.99) free of charge! If you would like to try red you can order that separately below. Watch the Youtube video here. Kent will explain more and show you samples of how each color looks in a dash cluster in the dark. We do not offer this for the W201 or the W124 chassis. The bulbs will fit in the W201 but it is hard to pull the cluster out for a quick change (may take longer). The bulbs will not fit the W124 chassis. 
Can't Decide LED Instrument Light Quick Changeout Kit w/ Video Instructions
$48.00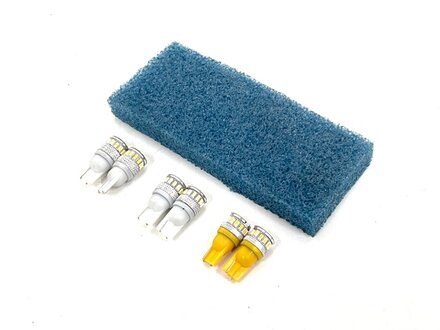 Product Details
IMPORTANT WARNING: If you want to make quick dash light changes you will need a set of dash pull tools. We decided to not include these because so many already have a set. If not, you should order those tools separately below. The blue heavy dense foam pad does serve an important purpose and Kent will explain how to use it in the included on-demand video.
Related Products:
---