Four of Kent's most popular videos so you can see just how "in depth" they really are ....and save big $$$ on repairs - Save $15.97 buying the collection!
If you have been enjoying Kent's free Youtube videos but have not yet purchased and watched one of his on-demand "meat and potatoes" videos, we guarantee you are really missing something. Most of his Youtube videos give you tips and glimpes of how rewarding it can be to troubleshoot and repair your Mercedes yourself. BUT, if you want the in-depth step-by-step instruction to do a specific job right and save big $$$ you will only find that information in his growing list of over 170 on demand videos that are only available on our website. 
On Demand Video Sampler 4 by Kent Bergsma
$32.99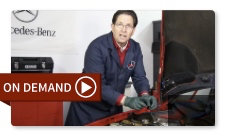 Product Details
So if you have not done so already, we encourage you to take a "look." We have put together this special collection of 4 of his most popular videos as an incentive. To purchase these separately the cost would be $48.96, but you can purchase all four together and save.  The selection is varied and there is something here for every car enthusiast! You must be logged into your account at Mercedessource to view them!
PLEASE NOTE: As of May 8, 2017 the $10 special offer mentioned on youtube is no longer available. 
How to view these 4 on-demand videos: PLEASE READ CAREFULLY. The videos are NOT "sent" to you...
Once you complete the purchase of this collection you will be able to view them immediately ONLY when you are logged in and on your personal account page (click on My Account). The video(s) will show up under My Video Manuals. The video is NOT downloadable to your computer or mobile device, but you will be able to view it anytime, from anywhere and from any device as long as you have internet access and you are logged in to your account at mercedessource.com.
Important note: This video manual may or may not include all the information you will need to troubleshoot and/or repair your specific problem/s. Please read the full description carefully to determine if this video is applicable to your year and model and contains the information you are looking for. If not, please refer back to our "Solutions Finder" and enter your chassis number and the specific problem you are having to see if we offer a solution.
Related Products:
---