PLEASE NOTE: This is a March 2008 compilation of my previous diagnostic guides - Why Does My Diesel ------? I decided it was time to revise and combine them all together. If you have already purchased one or more of those guides in the past then some of the information may be a repeat for you. I have added some revisions, new information on poor performance, and added a chapter on engine operating temperatures. This manual is printed on 8.5 x 7 inch paper and wire bound so it will stay open on your workbench. It is my biggest manual to date - totaling 121 pages in length with 190 photos.
Diesel Engine Advanced Fault Diagnostic Manual by Kent Bergsma
$29.50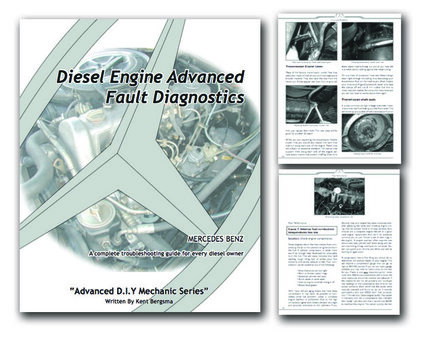 Product Details
Chapters include the following topics:
Chapter 1: Why Wont My Diesel Engine Start?
Chapter 2: Why Does My Diesel Engine Perform So Badly?
Chapter 3: Why Wont My Diesel Engine Shut Off?
Chapter 4: Why Does My Diesel Rattle and Knock?
Chapter 5: Why Does My Diesel Leak Fluid?
Chapter 6: Why Does My Diesel Run Cold or Hot?
APPENDIX: Resources for Repairing the Problem
Remember, this is not a complete maintenance manual. It is a diagnostic guide to help you find the reason or reasons for your problem. The appendix does give you links to repair resources and rates the difficulty of the repair procedure. Knowing what is causing the problem is the first step to fixing it!