Will work on ALL Models in these years with power steering pump OE number 126 460 13 80 (107 chassis and others).
For 240D 300D 300CD 300TD 300SD Models. You have asked for it and we have delivered again. Now that all those old power steering pumps are leaking out the front seal we have come up with a kit that will allow you to replace the front seal of your pump at home without any special tools. This kit will work on all power steering pumps on 4 and 5 cylinder diesel engines from 1977 to 1985 (excluding the 190D 2.2). Will work on ALL Models in these years with power steering pump OE number 126 460 13 80 (107 chassis and others).
Diesel Power Steering Pump Leak Reseal Kit 1977 to 1985
$37.50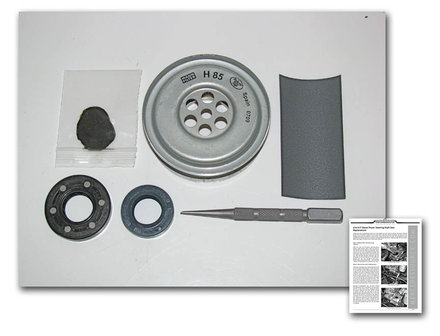 Product Details
Kit contains the following:
Front seal to fit Vickers pumps
Front seal to fit ZF pumps
Special seal removal tool by Kent Bergsma
Small amount of sealant for outside edge of seal
Special polishing paper for output shaft
New power steering filter
PDF Complete illustrated 5 page step-by-step instructions
The detailed instructions will explain how to remove the pump, take it apart, install the new seal, replace the pump, flush the system, and install the new filter. Yes, thats right! We even include a brand new filter for your convenience.
NOTE: We include both sizes of seals because we have found it is often difficult to determine which seal you will need without removing the front pulley. To avoid the potential of your getting the pump all torn apart without the correct seal on hand we have decided to send both seals in all our repair kits. Just use the seal that fits your pump and discard the one you don't need.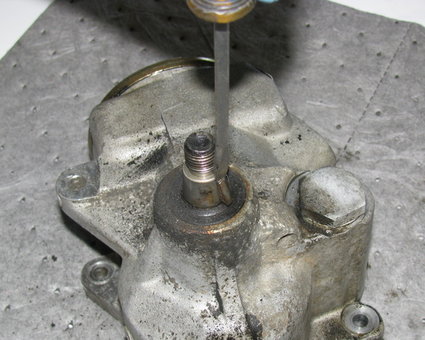 GAS ENGINE PUMPS: This kit will also work on SOME gas engine pumps. Please email us before ordering so we can verify application.
_______________________________________________________________________________
How to view the PDF digital instructions:
Once you complete the purchase of this product you will be able to download the digital instructions immediately when you are logged in and on your personal account page (click on My Account). Any PDFs will show up under My PDF Manuals. You will be allowed three downloads, so please save the file on your machine for backup.
_______________________________________________________________________________