Best upgrade for 220SE, 220S, 230, 250S, 280S, 250SE, 280SE, 280SEL, 230SL, 250SL, 280SL
We believe that installing this Electronic Ignition in your pre-1973 Mercedes Benz 6 CYLINDER ENGINE is absolutely the best upgrade you can make to your old classic. Elimination of the contact breaker points is the key to this modification. In its place, there is an optical trigger with a light beam that is broken by a rotor that has small slits in it (see picture below). There are no points to burn, wobble, corrode or adjust. Along with the optical trigger, an electronic ignition module is used to boost the intensity of the spark across the spark plug electrode. You will be amazed at just how well this unit works.
Early 6 Cylinder Points to Electronic Ignition Conversion with Instructions
$134.50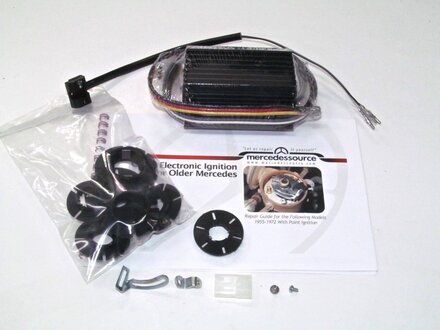 Product Details
We cannot  confirm application for EURO MODELS. If you have a Euro model you will need to check the images below and do some measuring on your points camshaft.
Watch Kent's youtube video as he explains how it works. CLICK HERE TO VIEW.
Watch his second video showing one installed and explaining its many advantages. CLICK HERE TO VIEW
PLEASE NOTE: In both videos, Kent refers to this unit as the "CRANE IGNITION." As of the fall of 2016, the name has been changed but it is still the same unit in design and application. 
Here are the advantages of installing this electronic ignition 1. Faster starts in the morning thus saving battery and starter 2. Smoother idle and cleaner fuel burn producing less smoke 3. No more constant fouling of spark plugs 4. More power and faster acceleration 5. Better fuel economy 6. Easier starts after long storage (no points to corrode) 7. Loose distributor shaft bearings do not affect performance 8. Easy to change back to original points if need be When you consider all these advantages it is pretty hard to argue for any reason why not to do it, especially when you consider the moderate costs involved. The unit does come with complete instructions and adapters to install in a variety of old car makes. This means the factory instructions are lengthy and may overlap to cover all the different styles of distributors on the market. It may be confusing to determine just what procedure you need for your Mercedes. Kent's included manual was written to supplement the manufacturer's general instructions and his manual is specific to Mercedes Benz. These instructions will eliminate trial and error and greatly speed up the installation process. Just follow along step by step and you will be done in less than 2 hours.
This picture shows how the rotor disk is installed underneath the factory rotor.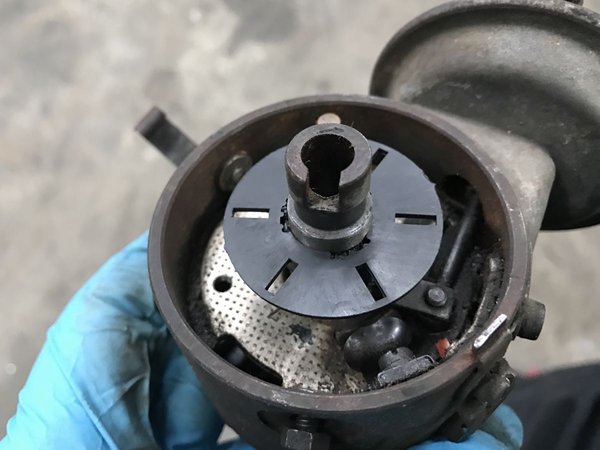 SPECIAL NOTICE FOR ENGINES WITH FACTORY TRANSISTORIZED IGNITION: From 1970 to 1973 many 6 cylinder engines had factory transistorized ignition. This was an attempt to improve ignition performance and reliability of the contact points. If you are not sure if your engine has this look for the two plastic "black boxes" as shown in the picture below. They will be mounted on the left side of the engine compartment towards the front grill. Some may be "hidden" under the radiator core support. ( Shown here is a 1970 280SL ).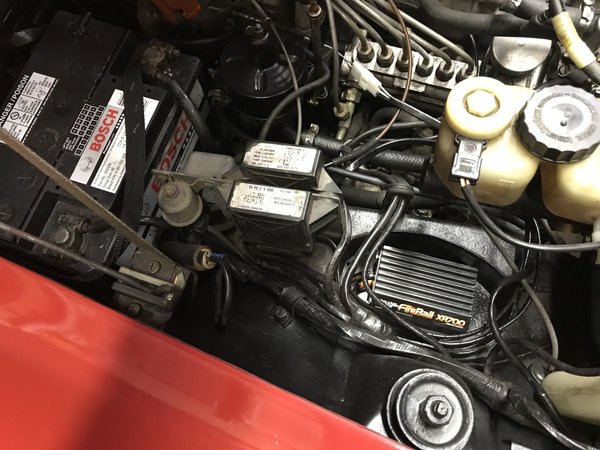 You can eliminate this sometimes troublesome system by installing our electronic ignition. You will need to bypass the factory system COMPLETELY. Kent's written instructions do not include these specifics, but it is not difficult if you understand the principles of ignition wiring. Be very careful about hiring a mechanic to do this job. They need to be from the "old school" and have experience working on point ignition old cars. We have found that many mechanics will not read the instructions we include with our parts :-). That is why we recommend you do this yourself.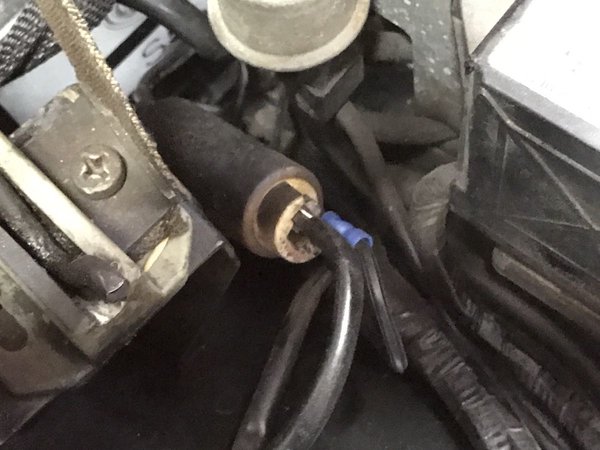 You need to find the direct 12-volt power source that is coming from the ignition switch BEFORE it enters the transistorized ignition. This is where you will want to "tap in" to power the new electronic ignition. 
Many people have written asking if this kit will fit there particular car. That is something you will need to do YOURSELF by removing your distributor cap and rotor and measuring your points camshaft with a caliper as shown (width should be approx. 15.75mm). If you can get the rotor to fit on the camshaft the kit WILL WORK on your engine.  Notice the measurement is taken the the flat sides of the cam (not on the tips / edges ).