For Non Tilting Power Sunroofs 1965-1985
For all 111, 112, 108, 109, 114, 115, 107, 116, 123, 126 and 201 chassis (Non tilting roofs up through 1986). Do you have a power sunroof that is working poorly or maybe not at all? Does it move slowly or not at all in the morning, but when it heats up during the day it works just fine? Do you have to assist it by hand to get it fully opened or closed? This 28 page guide with 46 pictures with help you fix those problems. It contains information that you will not see in any other manual. I will take you step by step through all the procedures you'll need to go through to get your electric sunroof working properly again. Written by Kent Bergsma.
Early Power Sunroof Service and Repair Kit
$44.50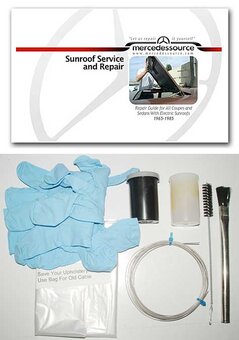 Product Details
These procedures are applicable to all Mercedes sunroofs from the 1960s up to the mid 1980s. Along with the manual you will receive the proper Mercedes factory sunroof track grease (this costs $85.00 for a one pound can!), moly grease for the sunroof cable, a small cleaning brush to clean the cable tube, and a 10 foot piece of wire to pull the cleaning brush through the tube. Even if you choose not to take on the work yourself, you can give this kit to your mechanic to help him get the job done right. Other tips I have included in this guide are: finding water leaks, cleaning drains, air dam adjustment, rust repair, and cleaning and painting headliner.