For Non Turbo Models 240D 300D 300CD 300TD 280E 280CE from 1977 to 1980
From our experience, it seems like front brakes are more often neglected than the rears - especially the rotors. Of course, fronts usually wear faster, but it could also be due to the difficulty and the time it takes to replace fronts as opposed to rears. Kent will make it easier. and less. expensive to do this job yourself with this kit. Watch the video as he explains what is included and why.
Early W123 Front Brake Squeal / Shimmy DIY Repair Kit with Advanced Instructions
$99.00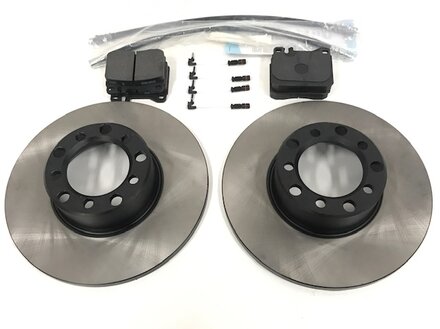 Product Details
Here is what is included:
New front special coated rotors to reduce rusting
New front semi-metallic brake pads with anti-squeal pads
New brake pad sensor wires
New flexible brake hoses
Brake repair manual PDF by Kent Bergsma
Video tips and tricks
Notice that new calipers are not included. Often shops replace the calipers and pads and maybe surface the rotors. This could have already been done on your car sometime in the past. This is poor practice. Hoses are overlooked and turning or resurfacing Mercedes brake rotors is often a waste of time and money. They will soon overheat and warp causing the front end to shake ( often violently ) when pushing hard on the brake pedal at speed. This is what happened to "Bubbles" a 1983 300D sedan. When you remove your front pads you can test to see if both caliper pistons are moving freely. If not you will need to replace or rebuild your calipers.
See below for additional recommendations when doing this job yourself. If you don't have supplies related to brake work we recommend the D0-IT-RIGHT kit shown below. Also, as noted in the video above we recommend DOT 4 brake fluid and a pressure brake bleeder. See related products below.
Related Products:
---