Check the condition and performance of these important fluids in just a few minutes
From Kent's experience engine coolant and brake fluid are the most neglected fluid maintenance items on older Mercedes. He knows it can be a pain to change them every two to three years, but if you don't it is going to cost you dearly. Just watch some of his recent YouTube videos on blown diesel engines and frozen up brake systems. Now there are some easy tests you can do yourself on these fluids to confirm their real condition in just a few minutes. Watch the video below to learn how to do this yourself.
Engine Coolant and Brake Fluid DIY at Home Test Strips - 3 Pak
$9.85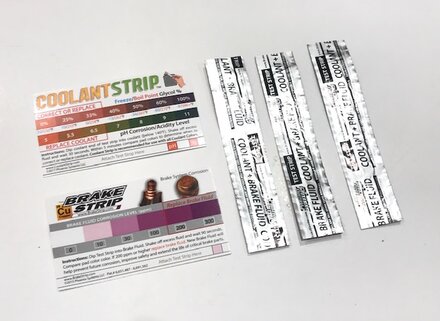 Product Details
This kit contains 3 dual-purpose test strips and two color-coded analysis cards as shown. These can perform three separate tests over time. Be sure to keep the unused strips sealed up in the zip lock bag.
Related Products:
---