For extreme cleaning and visually restoring your engine compartment
When cleaning and cosmetically restoring your cars engine and engine compartment, you will need containers for the various cleaners, acids, paints and sealants you might use as well as brushes to apply them. This is what Kent uses when he tackles a dirty and corroded engine and the surrounding areas. The containers can hold and the brushes can apply any number of products you might need to use including Miracle Paint for badly rusted areas.
Engine Cosmetic Restoration "Tool" Kit
$18.95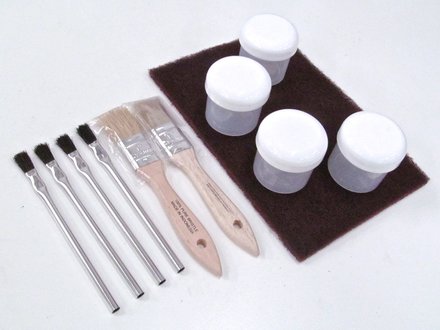 Product Details
He is currently doing a major cosmetic restoration of the engine compartment on his 1976 240D. Follow along in Kent's Garage YouTube Show with episodes 4, 5 and 6 to see how he uses this kit to get the job done right! You will not believe the before and after pictures.
This kit contains the following.
Four acid resistant plastic empty 2 oz. containters with strong lids
One Scotchbrite pad for cleaning rust and corrosion
Two one inch paint brushes
Four quality acid brushes
Here are some good before pictures.  After pictures coming soon: