For 107 116 123 126 Chassis before 1986
New seal kit for ONE caliper. Only works on ATE calipers. Fits many models from early 1970s to mid 1980s. Includes 450SL 380SL 450SE 450SEL 380SEL 300SD 123 chassis 240D 300D 300CD 300TD,
Front ATE Brake Caliper Seal Kit
$22.95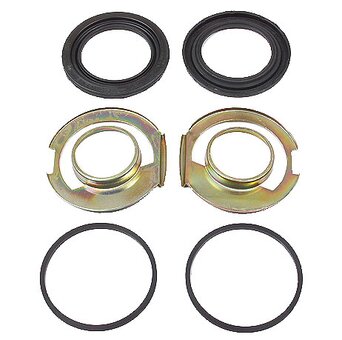 Product Details
Some calipers can be easily rebuilt by the DIY mechanic. The decision to rebuild or not comes down to calculating the labor and hassle involved. If the caliper is only leaking, consider installing a seal rebuild kit. It the caliper is rusted frozen then don't bother.
Note: How can you tell if you have ATE Calipers? Look at the long pins holding the brake pads in the calipers. Bendix has small clips on the ends of these pins to hold them in place. ATE calipers do not use these little clips.