Fits all chassis: 107, 114, 115, 116, 123, 126, 201 and 124. This repair manual is written for all Mercedes models from the early 1970s up to the later 1980s. Principles may apply to older pre 1970 chassis as well but most instructions and illustrations are written for the chassis numbers listed above. Manual is 25pages and printed in 8.5x11 format and is bound with a smudge resistant plastic cover. Is your drivers seat starting to sag more than it use to? Are you finding it is just not comfortable any more on long trips? Maybe it tips to one side and you are constantly trying to compensate your weight to the other side. This manual will show you how you can remove and repair the seat yourself using original Mercedes used parts.
Front Seat Repair Manual by Kent Bergsma
$16.95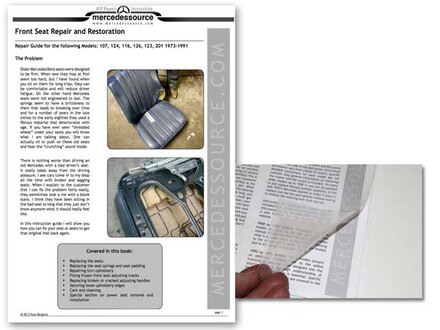 Product Details
It covers removal from the car, dis-assembly, upholstery removal and replacement, seat spring and pad removal and replacement, repair and lubrication of your seat tracks, reassembly, and installation back into your car. It is not a guide on how to sew new upholstery. It also addresses seat handle replacement, re-coloring, removing a power seat that wont move by electrical power, quick repairs to sagging seats, back seat removal and installation and special notes to SL owners. I share with you my little secret on how to get the very best drivers seat possible at the lowest price. I have seen so many really bad repairs come in from various upholstery shops, that I would recommend you consider fixing it yourself so you will get the lasting results you want.
Here is a customer testimony received on September 21, 2007.
Kent:
I recently ordered a replacement seat pad and your "how-to" manual for front
seat repair. What a difference! With your manual in hand, this was an
easy repair and the seat feels like new again. Thanks for the great
products!

Dave