Video instructions included. Custom made in our shop - smooth parallel jaws - for both gas and diesel Mercedes
I have used different hose clamping or clamp off tools before - some work better than others - but I want a plier specifically for fuel hoses in tight places - like the hose that comes out of the fuel tank on most older Mercedes Benz. Criteria had to be: 1. Easy to adjust. 2. No damage to the hose. 3. Must crimp the hose flat parallel to the tool. 4. Easy to release. 5. Easy to reclamp to stop the fuel from flowing. I have drained so many fuel tanks I wanted something that would reduce the spills and speed the process. Gerson and I went to work and this is what Gerson came up with. Watch the included free instructional video to see it in action:
Fuel Tank Outlet Hose Crimp Off Adjustable Pliers
$22.75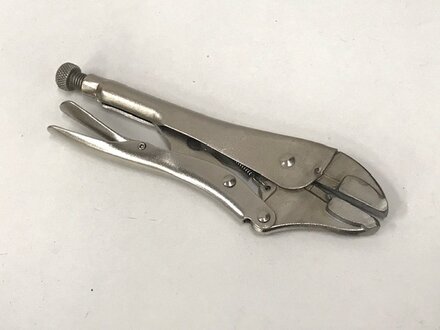 Product Details
This tool is great for clamping off fuel hoses and small coolant hoses. It also has many other uses around the shop. The problem with real vise grips is the jaws can damage any fragile aluminum and plastic parts. With the smooth jaws on these pliers, you can grab a hold of pieces and parts you want to grind or cut without leave marked on them form the teeth found on all other vise grips. 
Here you can see how the jams work when clamped tight.