Fits late 60's up to 1985 models 114, 115, 116 and 123 and 126 models to 1981 to 1991.
Looking for a solution to solve your 114 115 116 123 or early 126 chassis power antenna problems? In my humble opinion the original power antennas on all 1985 and older Mercedes are just getting too old to mess with anymore. I have tried myself to rebuild them only to have them fail again in another area. You can send them out for professional overhaul but that is expensive. Unless every electrical and mechanical part inside is replaced problems may return. New original exact replacements are no longer available. This universal antenna allows for up to 30 degrees of tilt so you can fit in into most of the older Benz. 
Hirschmann Universal Replacement Power Antenna with Custom Instructions
$99.75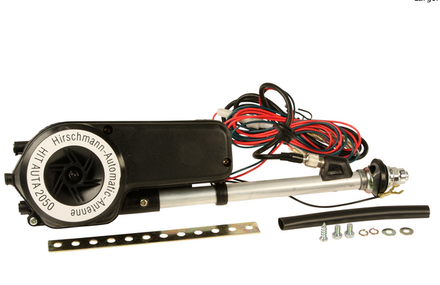 Product Details

I believe the Hirschmann universal automatic power antenna is a good alternative. As of 2013 this is the new upgrade version and it is quite robust with a larger motor drive mechanism. It is inexpensive, attractive, reliable and relatively easy to install with the included factory universal instructions. NOTE: Kent also includes his special pictorial instructions (PDF) that will help you install and adjust it successfully in a Mercedes Benz.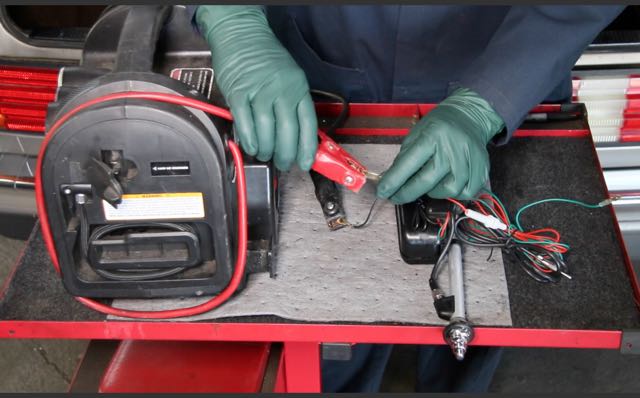 FREE TUTORIAL VIDEO. Kent will explain how the antenna works and how the three wires should be connected. Click here to view:
 Due to its simpler design, the height fine adjust function is not incorporated. You will no longer be able to change the height of the antenna mast while driving. It will either be all the way up or all the way down. Most owners never use this function anyway and I feel it is a small "price to pay" for the money saved and the reliability regained. The antenna drive unit itself is a little lighter and smaller than the original
This will mount in all 114, 115, 116, 123, and 126 chassis sedans and coupes from 1968 to 1991. Note: You will have to bend the mounting bracket to fit your particular car and you will have to do some wire connection modifications as this is not a direct factory replacement. On the later W126 from 1986 to 1991 you will have to remove the factory rubber grommet from the fender to install this antenna. 
_______________________________________________________________________________
How to view the PDF digital instructions:
Once you complete the purchase of this product you will be able to download the digital instructions immediately when you are logged in and on your personal account page (click on My Account). Any PDFs will show up under My PDF Manuals. You will be allowed three downloads, so please save the file on your machine for backup.
_______________________________________________________________________________