For all 108, 109, 114, 115, 107, 116, 123, 126, 201, and 124 chassis from 1965 to 1995. I wrote this repair guide to show you how to properly remove your instrument cluster and replace worn or failing components.
Instrument Cluster Removal and Component Replacement - By Kent Bergsma
$16.95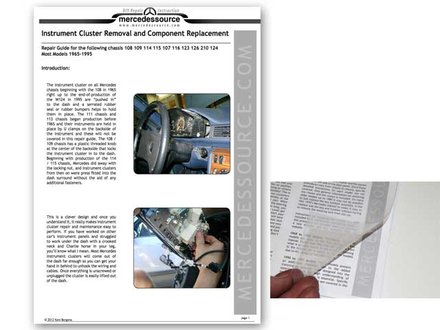 Product Details

(NOTE: This is not a detailed manual on how to repair the components. In most cases it is best to just replace them with new or used units or send them out for overhaul.)

If your dash lights are not working, if the odometer is not moving, if the tach or clock does not work, if oil is dripping out from under the dash, if your speedometer is making funny noises, then this guide will help you find the solutions. I even include some tips on what you can do if your engine instruments are jumping around. I can not guarantee success in fixing jumping gauges in all instances but it is worth trying some things outlined in the manual before you replace expensive instruments.

The manual is 20 pages long and contains over 50 pictures with clear explanations. It comes bound with smudge resistant plastic covers. There are individual short sections covering each of the different chassis models mentioned above.
WARNING: 107 SL Owners:  In most cases you will need to remove the steering wheel to get the instrument cluster out. This manual DOES NOT cover the removal of the steering wheel or the disconnect of the air bag on 1986 to 1989 models. You will need to refer to the factory manual for that information.