SOLD - on 2/13/16
NOTE: Please do not try to purchase this car by checking out on the website. Email Kaia at sales@mercedessource.com if you are interested in purchasing. I have had a lot of fun over the years with this unique W108, but just recently an engine problem showed up on it and I have decided to sell it. I need to thin out my collection of old Mercedes anyway, and even though this is one of my favorites to drive I am using this problem as an excuse to let it go on to the next enthusiast. I am already working 90+ hours a week…. :-)
Kent's 1968 280SEL For Sale Now - w/ 4-Speed Manual and 4.5 Rearend
$5,500.00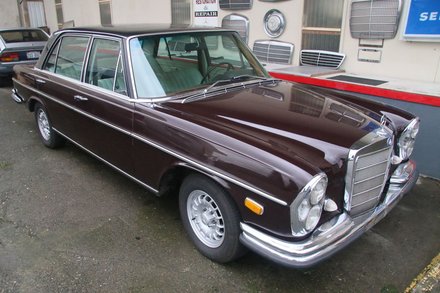 Product Details
I am currently picking up the tell tale signs of coolant getting into the oil. So far I do not see any oil in the coolant so I suspect a small head gasket leak. Since I can not verify this I must stress no guarantees and "buyer beware."
Watch the video as I explain in more detail the condition of the car and what other items will need attention. Even though the car looks great in the video and pictures, do not expect too much. If you are a perfectionist and any little flaw bothers you then this is not the car for you. I am probably trying to describe this car "worse" than it is so the new owner will not be disappointed. 
To see how the car performs on the road watch my popular ride-a-long video. Just think, you could become an owner of a YouTube star!  
Here is one other video you can watch where I talk a little more about the engine.
Here are a few things to keep in mind if you are interested in purchasing the car
The car will need to be trailered to your location (unless you live in Whatcom county)
It has some headlights not working so can it not be driven in the dark
Good braking and tire tread is 90 percent
The car has a clean Washington State title in my name
If you need time to arrange for transport I can continue to store the car inside for $4.00 per day
Immediate payment required - Cash or cashiers check only
If cashiers check there will be a 14 day wait after cashing before car can be picked up.
You will have to arrange and pay for your own transport
I am happy to meet trucker and help load if needed.
Trade might be considered:  If you have a 1982 or newer Mercedes chassis that I do not currently own and that does not need any major work I might be open to a trade up or down. This would need to be a car that I could use for future videos. i.e.: Late R107 chassis, late W140 chassis, 1998 to 2004 C-class, 2002 to 2005 SLK or M- class,