NO LONGER AVAILABLE. This car sold on January 11 and will be driven to New Mexico.
PLEASE DO NOT TRY TO CHECK OUT AND PURCHASE this 300D online. If you are interested email us for how best to pay. Rather than me trying to explain everything in this listing, I would ask you to watch the video by clicking on the white arrow below. If you have arrived here due to watching the video then you already know the general condition of this W123 Mercedes. The W123 is getting very popular and values are going up at a steady pace. Good turbo diesel wagons are now over $20,000. If you have not done so already watch the video and I will explain the condition in more detail and explain why I named this Benz "NoGlow."
Kent's 1980 W123 300D Blue Sedan SOLD
$8,600.00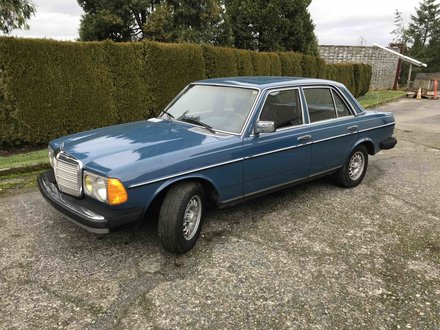 Product Details
Here is a list of things that I have done since acquiring the car two years ago. I have driven the car less that 1000 miles since this work was done
Valve adjustment
Compression test
Injectors, cleaned, tested and replaced as needed
New heat shield washers
New injector return hose
New fuel filter
New Air filter
New Air filter housing mounts
New engine oil and oil filter
New thermostat
Rebuilt mechanical lift pump
Fuel tank filter screen replaced
New fuel hoses as required
Rebuilt alternator
Turbo starter motor installed
New flexible brake hoses
Brake fluid flush
New rear brake pads
New front suspension upper control joints
All four door panels removed and all parts cleaned and lubricated
In 2018 both the battery and the tires were replaced and they have very low miles on them. 
Mechanically the car is very reliable and all the "road trip safety" items have been inspected and replaced if necessary. Mileage reads 227,000 but the odometer was working intermittently and has now stopped. I suspect the mileage is not much more than that, but I have no idea about the engine mileage. I have never see a Diesel engine so tight with such high compression with much over 100,000 miles. 
The interior is not perfect but is above average for a 39 year old Mercedes. The front seats are solid and comfortable ( not broken down like most ). No separations or major tears in front seats. The back seat has some splits in the stitching on the upper part of the back that gets exposed to sun. Door panels are all good as well as the blue carpets ( I replaced the front ones out of a lower mileage car). The blue dash does have some typical cracks in it and been overlayed with a blue carpet cover (see picture below)  The trunk is very clean and has a good spare, the tool kit and the jack. 
ON SALE NOW! If I don't have to finish everything right now due to my hectic schedule I can offer a hefty discount.     Not everything I would like to do cosmetically has been done on this car that I would like to see done. All the electrical equipment is working such as the power windows and power sunroof.
The rear window glass seal needs to be replaced. It is badly cracked from age
The sunroof needs to be serviced to make it run more smoothly.
The vacuum door locks do not work due to a leak in the system
Hood pad needs replacing
Odometer needs to be sent out for repair ( approx $100)
I will include with the purchase a new rubber rear window seal, new hood pad, our sunroof service kit with my sunroof manual, and my manual on troubleshooting and fixing vacuum door locks and my manual on instrument removal,  for you to help you make these repairs yourself. You will also receive a packet of goodie spares, which will include new fitlers, light bulbs, fuses and some surprises
To secure the car buyer must make a $200 deposit via paypal, with the balance of $7300 via bank wire transfer within 5 days. Car is sold "as is" with no warrantee expressed or implied. The buyer will be responsible in full for any transport. I will facilitate longer storage if the new owner wishes to wait until Spring to pick it up.  Car must be picked up by the end of April 2020.    -