Late model "best of the breed" - best looking with silver on black and with the super reliable M113 V8 engine.
Kent's 1999 R129 SL500 Silver on Black Leather w/ Both Tops - Striking!
$9,500.00
Sale
$8,600.00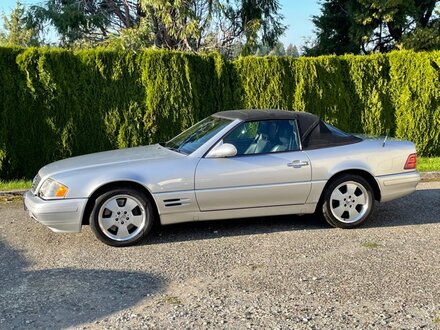 Product Details
tKent named this car Sacco after the last name of the famous designer who designed this convertible Mercedes. This is a low mileage (115K) all original vehicle that has been garage kept, never subject to road salt, beautiful original silver paint ( no dents or repaint), very nice soft black leather interior, excellent black canvas top, and a matching flawless silver hardtop. I have owned some early model R129s and I strongly believe that the later model R129 with the M113 V8 is the very best one to own - for performance, fuel economy, and reliability. Watch this car in action and Kent and Kaia go out on a road trip to pick up a W123 300D. Please note: The AMG wheels shown in this video below and other videos do NOT come with the car. You get the original wheels as shown in these pictures along with near new tires.
Recent spark plugs, oil change, air filter, crank position sensor, hood pad, and general inspection. Ready for ROAD TRIP. At my age I have to face the reality I just can't keep all my classic Mercedes. This is the next one I will sadly be parting with. ( I looked for 5 years to find a nice silver one with an M113 engine.)
Please do not try to check out online to purchase this car. If you are interested in acquiring this SL email Kaia at sales@mercedessource for payment instructions.
You will have to admit that this is the most beautiful R129 roadster you will see on the road! Clean Washington State title in Kent's name. Payment by bank wire transfer. Car must be picked up within 30 days of purchase. kentscarsforsale  PROJECTCAR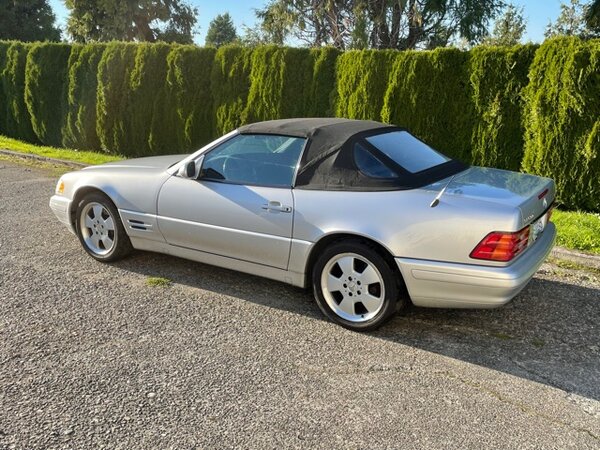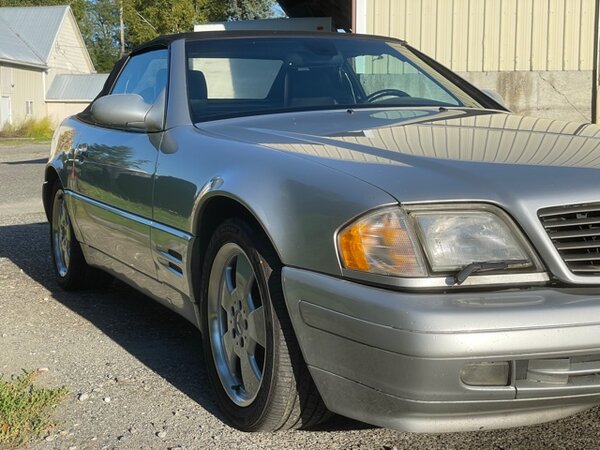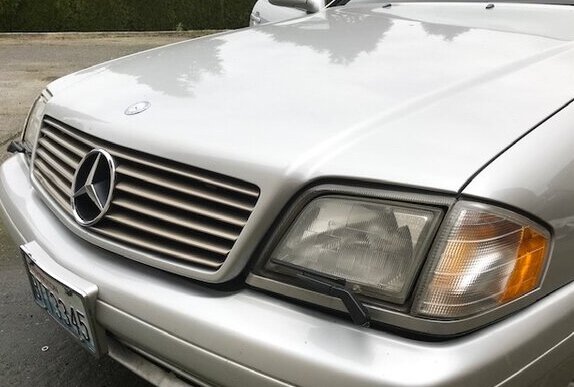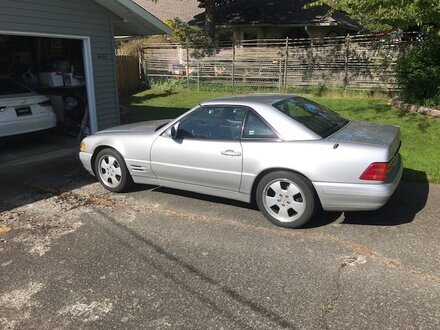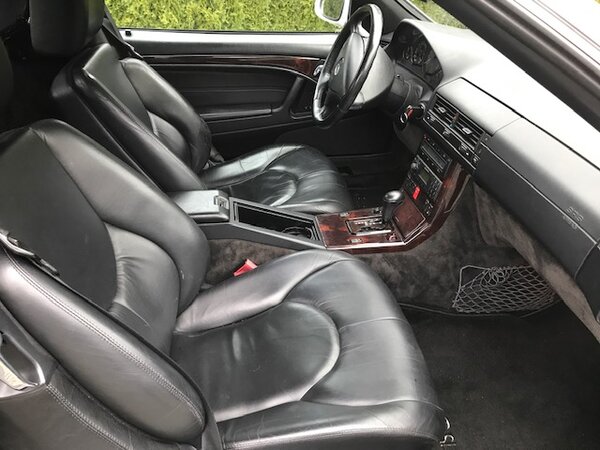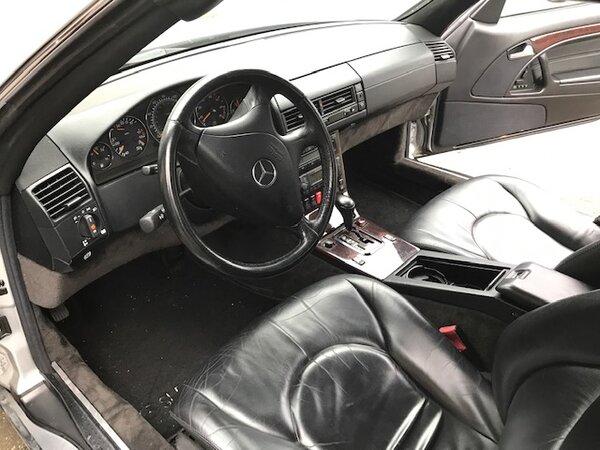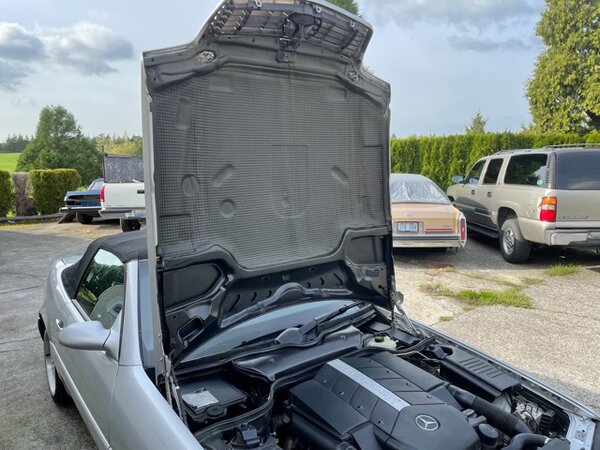 Beautiful and super clean engine compartment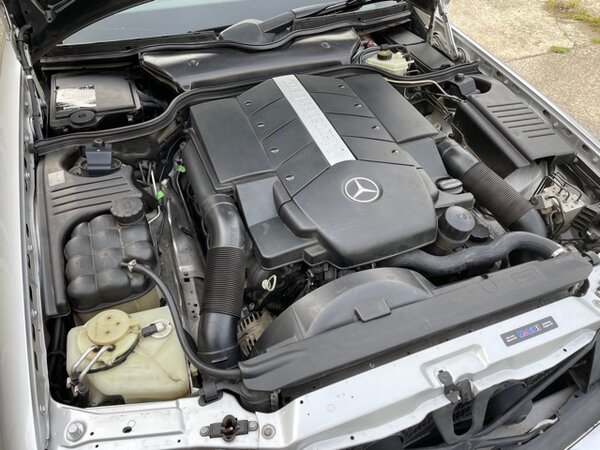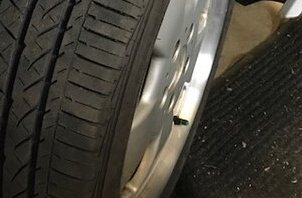 Recent work includes new spark plugs, new crank position sensor, air filters, and oil change. Very good original wheels and performance tires with over 80 percent tread. 
So what does it need to be "perfect." That is a question I often get asked. Perfect can be a pretty relative term when it comes to a 20+ year old car. But here is my punch list of little things that I think need to be done to make it "perfect."  :-)
1. Crack in one of the lower bars in the front bumper. There are plastic bumper repair kits to easily repair this.
2. 3 inch crack in upper right side of windshield. This is up high and out of vision. Been there since I have owned the car.
3. Power antenna mast. I replaced the mast but it does not go all the way down. Sticks up 4 inches. 
4. Air conditioning. Last time I used it last summer it is not blowing as cold as it should. There is still pressure in the system.
5. Very small leak in right top front locking cylinder. Only drips a few drips after used. There is an outfit in Oreagon that rebuilds these cylinders for around $60.
All electrical components to my knowledge are working as they should. The body and paint are excellent. No dents or scratches. If I recall I don't even notice any little door dings. The interior is way above average for an R129. Even the drivers seat is good with only a slight amount of stitching that is starting to come loose on the driver seat outside lower edge. Wheels are in excellent condition with no heavy curb damage that you usually see.
FINAL NOTE: If you have been looking to buy a good R129. If you have not been around the M113 you are in for a pleasant surprise. I will never go back to the M104 or M119 engine in these cars. No more leaking head gaskets, No more finicky CIS stumbling, start and stop, rough idle, poor fuel economy. No more valve train guide and rail problems. No more hard to replace water pumps and belt tensioners, etc. etc.  :-). This is my favorite Mercedes Benz Engine!